Vertex: Avalon Emerson [Berlin]
July 30, 2021 @ 10:00 pm

-

2:00 am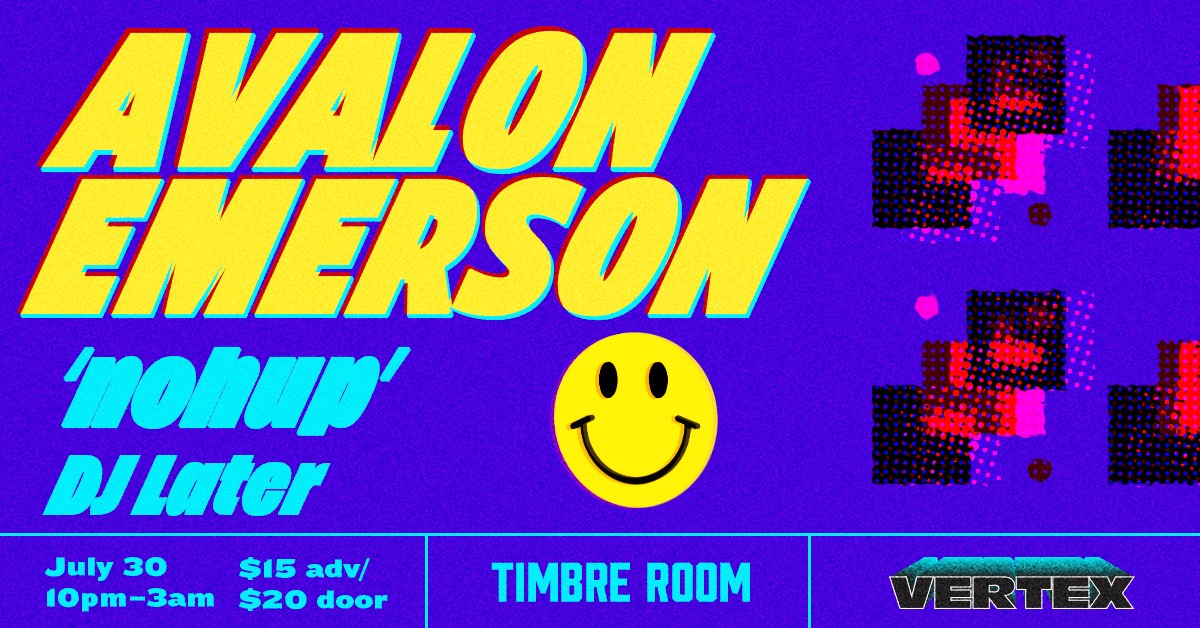 We are pleased to present the fourth installment of Vertex featuring Avalon Emerson [Berlin], 'nohup', and Vertex resident, DJ Later at Timbre Room! Let's get together on the dance floor, put aside our differences and go on a euphoric, hypnotic techno trip. We are here to celebrate queer and gay sexuality, music, art, design, and human connection. A creative sublimation lights and shadow; instinct and rationality; heaven and hell.
Your DJ's…
Avalon Emerson [Berlin]
nohup'
DJ Later
$15 adv/$20 door
Room Vibes Set By…
Shane Genet
We are here to go on an adventure together; therefore, there will be no racism, transphobia, misogyny, homophobia, or any other bigotry or discrimination allowed. We strive to make Vertex and Timbre Room into the safest place possible and anything to take that away will result in taking you away. Thank you and let's get weird! If you feel uncomfortable or notice someone who may need assistance, please find Ryan Ricketts, or any other staff member at Kremwerk/Timbre Room. If funds are an impediment to your attending the party, please contact Ryan Ricketts to discuss. We do not want anyone not to party with us due to financial issues. ALL ARE WELCOME.
We are here for your delight!
………………………………………
ABOUT…
Avalon Emerson (Berlin)
https://soundcloud.com/avalonemerson
Avalon Emerson is from the desert. While she currently lives in Berlin, the music she produces comes from the dreamlike expanse and abstract textures of the Sonoran landscapes of Arizona. Her journey has taken her from that sunbaked state to the contemporary dance music mecca via a long stint in San Francisco, where she cut her teeth as a DJ in the city's storied warehouse party scene. In her DJ sets and productions now, she offers a timeless narrative that reflects a passion for the sound design of new wave, the futurism of techno, the soul of American house and the exuberance of rave. Though she's built up steam in 2015 from multiple sets at Panorama Bar, and globetrotting all around Europe and North America, she's just getting started, and continues to outdo herself with original productions released on Whities, Shtum, Spring Theory, and Icee Hot, and her own DJ tool edit pool, the Cybernedits series.
'nohup'
https://soundcloud.com/miseryconfusion

(aka 'sighup', aka DJ Kaaba Emoji) is a multimedia artist, producer and DJ based out of Seattle, WA. Inspired by the radical inclusivity of the Seattle scene, their work is focused on finding a sense of comfort in discomfort, and introducing a sense of joy and levity when faced with darkness. Through all their projects, they hope to poke fun at rave culture while paying homage to the rich history it provides.
DJ Later (Vertex)
https://soundcloud.com/laterdj

Spinning a mix of house and techno, DJ Later is driven to make people dance, feel weird, and tripped out.
………………………………………
SAFER SPACE
The following actions or displays of behavior will not be tolerated: bigotry, racism, sexism, transphobia, homophobia, misogyny, and ableism.
Consent is required when interacting with others. A person's choice of self-expression is not an invitation for non-consensual touching. Any form of harassment including leering, rude comments or touching will be dealt with, and anyone caught harassing other patrons will be given a lifetime ban from our club. Our staff is here to support you.
PHONES
For the sake of the vibe during dance parties, we ask that you avoid using your phones or taking photos anywhere on the dance floor. Feel free to use your phones on the patio.
………………………………………
To stay in the loop about upcoming events, ticket giveaways, and more, sign up for the Kremwerk + Timbre Room Complex mailing list!
http://www.kremwerk.com/
………………………………………
Timbre Room is ADA accessible with a ramp to the front door/bar area, and access to the back door/dance area through the patio area, and 2 accessible gender-neutral restrooms available. For any questions about safety & accessibility, please email info@kremwerk.com.
Related Events