Vertex – Inaugural
June 22, 2019 @ 10:00 pm

-

3:00 am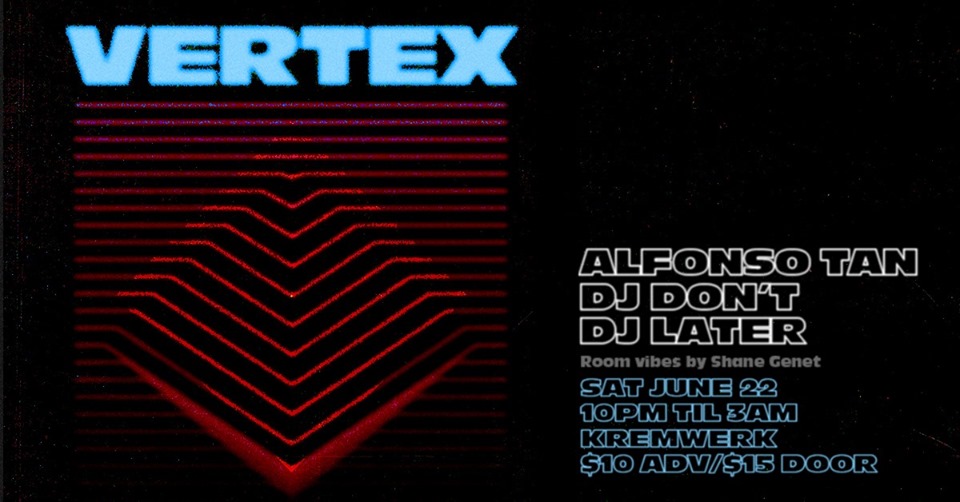 We are pleased to present a pre-PRIDE psychedelic affair. Let's get together on the dance floor, put aside our differences and go on a euphoric, hypnotic trip. Celebrate queer and gay sexuality, music, art, and design. A creative sublimation of house and techno; lights and shadow; instinct and rationality; heaven and hell.
Room vibes by the father pig of creation and craziness, Shane Genet.
Alfonso Tan (SEA)
DJ Don't (PDX)
DJ Later (SEA)
Alfonso Tan (Loosely Based, Rough Draft) (SEA)
10:00pm–11:30pm
Alfonso's become one of Seattle's up and coming tech house DJs in less than a year's time, and has already proven his DJ skills are way beyond his years playing at his own parties, or at just about every other music venue in town. He is truly a DJ to keep an eye out for! Hell you can't miss him, he's everywhere!
https://soundcloud.com/alfonsotan
DJ Later (Vertex) (SEA)
11:30pm–1:00am
Spinning a mix of house and techno DJ Later (formerly Tank Top) is driven to make people dance and feel a bit weird and tripped out. A resident at the Eagle, DJ Later has honed his craft for spaced out house and techno beats and is ready to unleash his musical fantasies.
https://soundcloud.com/laterdj
DJ Don't (Travis Atkins)(Circuit Breaker PDX, Switch. Dance Party) (PDX)
1:00am–3:00am(or Later?)
Resident at Circuit Breaker and Switch. in Portland, OR. Travis is known for his wild techno sets that are as infectious and psychedelic as they are dancing and pulsing. This will be his Seattle debut and he is bound to destroy you.
We are here to go on an adventure together; therefore, there will be no racism, transphobia, misogyny, homophobia, or any other bigotry or discrimination allowed. We strive to make Vertex and Kremwerk into the safest place possible and anything to take that away will result in taking you away. Thank you and let's get weird! If you feel uncomfortable or notice someone who may need assistance, please find Ryan Ricketts, or any other staff member at Kremwerk.
Related Events