WERKshop Wednesdays: Kremwerk Open Stage Night!
October 9, 2019 @ 8:00 pm

-

11:00 pm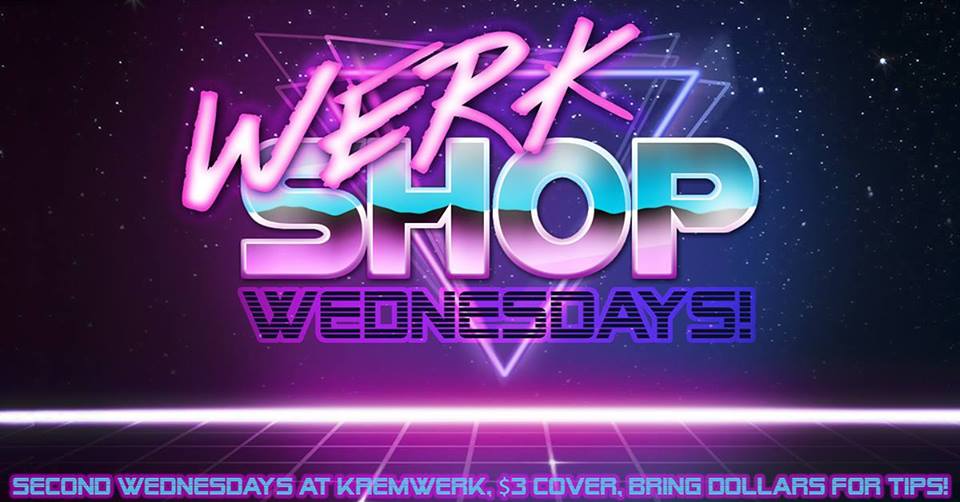 – 🔹▶️ YOU BETTA WERK(SHOP)! ◀️🔹 –
Come one, come all, come as you are: it's the Kremwerk open stage night! ✨ Experience a true grab bag of a show – where you can see acts coming to life for the first, sixth, or hundredth time in a low-pressure, open-stage format that welcomes newbies and pros alike.
Do you have an act idea you want to test out or refine? BRING IT.
Do you have an act you haven't booked in a while but you kind of miss doing it? BRING IT.
Do you just need a little stage time, for experience, for practice, or just for fun? BRING IT.
Do you just need an inexpensive chill night out, surrounded by queers and art? BRING YOURSELF.
Doors at 8 – show at 8:30!
.
– 🔹▶️ $3 COVER – $4 DRINKS – BRING $$ FOR TIPS! ◀️🔹 –
Tickets available at the door!
.
– 🔹▶️ SIGN UP FOR THE WERKSHOP! ◀️🔹 –
It's easy! Just email werkshopwednesdays@gmail.com to reserve a slot. First come, first served: we have 10 slots available each month!
.
– 🔹▶️ HOW TO SIGN UP ◀️🔹 –
In the email, please include ALL of the following:
– the name you would like to be called onstage, and your pronouns
– a brief description of what you're doing (lip sync, stripping, etc)
– any setup or cleanup required for your number
– if applicable, attach an MP3 of the song you are using, if any (NO other file formats please! NO links please!)
– if you are singing live, please indicate that you need a mic
Please keep acts to 5 minutes or less.
⚠️ Please be mindful of the content of your act, particularly with regard to cultural expression: WERKshop aims to be a safe space for all, and acts that compromise this may not be accepted for the show. ⚠️
.
You will get to keep any tips you receive during the number!
.
– 🔹▶️ CURRENTLY SIGNED UP ◀️🔹 –
1: Lexi Angel Royale
Related Events