What The Femme: Our Bodies, Our Spells – Hybrid Class @ SIFF Film Center
October 28, 2021 @ 7:00 pm

-

9:00 pm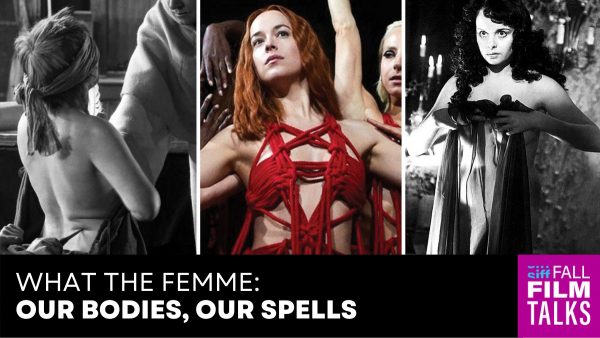 Instructor Thea Sabin explores how witches use their bodies, and in some cases how their bodies are used against them, throughout the history of film. Register at https://bit.ly/wtfemmebodies-fbe
Registration fees offered at a sliding scale; proceeds support both the instructor and SIFF Education programming. This class is expected to be presented in person at the SIFF Film Center. Zoom meeting details will be emailed to virtual ticket purchasers shortly before the scheduled event.
MORE ABOUT THE CLASS:
In folklore and film, witches have many tools at their disposal to charm, disarm, and harm. One is their own body, whether it's "by the pricking of my thumbs" for a couple of drops of blood, or seducing someone, or allowing themselves to be possessed by a demon or other entity. In trial records and the horrific MALLEUS MALEFICARUM, the seventeenth-century handbook for questioning witches, it was obvious that inquisitors knew this, too, because they used all sorts of means to limit women's access to their own body magic, such as shaving their heads so they couldn't weave spells with their hair. Women's bodies and how we display, portray, and look at them have long been a core theme in feminist film analysis, too. In this class we'll use lecture, film clips, and group discussion to explore how witches use their bodies in several films, and in some cases how their bodies are used against them. We'll examine films such as THE AUTOSPY OF JANE DOE, SUSPIRIA (2018), HÄXAN, RETURN OF THE WITCH (1952), MYSTICS IN BALI, OUTCAST (2010) and others through the lenses of history, folklore, and feminist critique.
ABOUT WHAT THE FEMME:
What The Femme is a SIFF Education series exploring women-representing character archetypes in cinema through analyzing the roles of women in horror, science fiction, and fantasy films. Each session will explore one character or archetype through several primary films, though likely more will be referenced. This education extension of SIFF's WTF Festival programming is curated by Colleen O'Holleran.
ABOUT THE INSTRUCTOR:
Thea Sabin is a writer-editor who has developed bestselling products for the Wiccan and astrology book markets and a large astrology website. Thanks to her Scottish grandmother's creepy folktales and an early obsession with Endora from BEWITCHED, she has a lifelong love of all things folklore, cinematic, and witchy. She's the author of WICCA FOR BEGINNERS and is working on a book on witches in film. She also cohosts a weekly Twitter livetweet featuring female-centered films and one featuring cinematic crapsterpieces.
Related Events