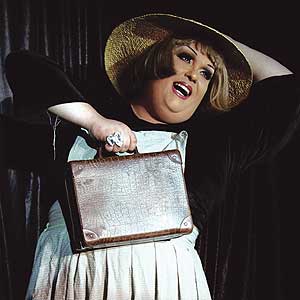 We've been discussing MULTIPLE options for New Year's Eve events, (go here or click "Weekend Calendar" up above) but what about the next day, Saturday, January 1, 2011? (Yay! Only one more year until Mayan oblivion!) Here's some options for you:
Yes, the film was just on TV the other night, (When did that become a tradition? And, what happened to the yearly showings of The Wizard of Oz?) but for hardcore fans of The Sound of Music, you can never get enough. The fine folks at the 5th Avenue Theatre realize this and they need to show something in that cavernous theatre and keep those seats warm until Lily Tomlin hits the stage on January 29 and 30 so they've scheduled a "Sing-a-long Sound of Music" for three shows on January 1 and 2. It's family fun for all families and they encourage you to dress up in costumes, (though I'm guessing it probably wouldn't be cool to dress up like a Nazi Storm Trooper and goose step your way down the aisles of the 5th…) and there will be prizes and goody bags and heaps o'fun. Unless you have a hangover from the night before and can't tolerate 2000 people singing "Edelweiss" at the top of their lungs at one o'clock in the afternoon…then you should go to the 7pm show instead!
Other options for Saturday include "Wild, Wild West Bacon Strip" at Re-bar with Hostess Sylvia O'Stayformore and slabs of delicious, smoky bacon, served with a Wild West theme (you can wear your chaps from the night before!) OR, strip down to your undies at The Eagle for the first, (but not the last) strip down event for 2011, New Year's Underwear Party with DJ up-ABOVE and Friends, OR, head to The Cuff for a special night with DJ Kimberly S., OR, just head to one of your favorite watering holes…it's Saturday night; there's SOMETHING going on for everyone!
Tags: Bacon Strip, Re-bar, Sound of Music Sing-a-long, The 5th Avenue Theatre, The Cuff Complex, The Eagle