Upcoming Events
Events List Navigation
November 2017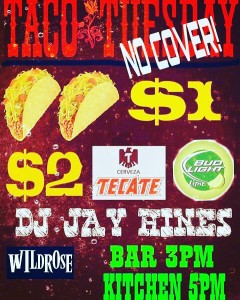 The women of Seattle have been munching on The Wildrose's famously delicious $1 tacos for decades....allies, too. It's a tasty tradition...and one ripe with double entendres. Bar opens at 3pm Kitchen at 5pm DJ Jay Hines spinning in the evening 21+
Find out more »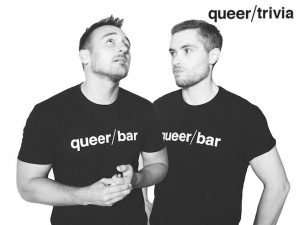 Come play FREE trivia at Queer/Bar every Tuesday! Plenty of seating, a full dinner menu, and great drinks for you and your team as you play to win cool prizes. There is always a queer round! "Best Name" gets to choose a category for next week. $5 Moscow Mules while you play! On Tuesday, October 31st Chris & Colin will be hosting a special Halloween Trivia! Spooky catergories and scary prizes for all who dare to enter.
Find out more »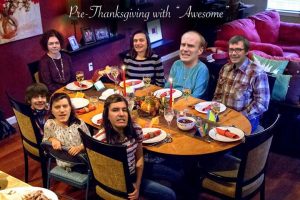 "Awesome" reunites once again at Nordo's Culinarium in Pioneer Square for two nights of pre-Thanksgiving musical mischief and performative camaraderie--Tuesday and Wednesday November 21 & 22 at 7pm. Their sold-out 2015 reunion shows at Cafe Nordo featured a setlist comprised mostly of brand new songs, but these shows promise to be a retrospective of band and fan favorites spanning the full catalog, including some rarities and new arrangements of songs from the band's various side projects. As always at Cafe…
Find out more »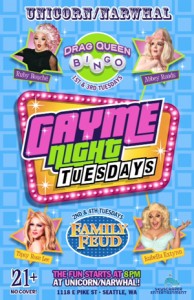 A rotating weekly live gaming extravaganza, hosted by Seattle' top queens. An evening of games and frivolities sure to leave you excited for round 2! Not only do we have a plethora of arcade games for your adult enjoyment but now we're adding interactive group games hosted by Seattle's top Drag Queens!! 1st and 3rd Tuesday's will be Drag Queen Bingo hosted by Abbey Roads & Ruby Bouché! 2nd and 4th Tuesday's will be Family Feud hosted by Tipsy Rose…
Find out more »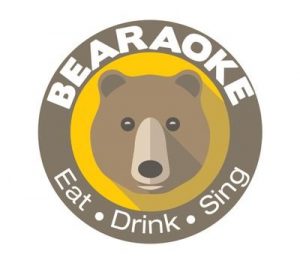 Finally! Seattle has a musical night again! Musical theatre and Disney song lovers, come join us for the opening night of ACT TUE: Musical Theatre Tuesdays at Capitol Cider's downstairs in The Ballast Bar. NO COVER FULL BAR HAPPY HOUR SPECIALS UNTIL 12AM Featuring the best of Disney, Broadway and everything in between. Never been to a musical night before? We'll spend the night playing for you video clips with subtitles from the most popular Disney songs and show tunes…
Find out more »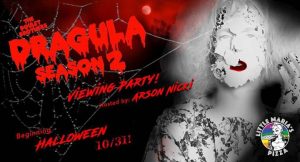 Alt-drag series Dragula returns for season 2, with a weekly, all-ages viewing party hosted by aggressively transgressive drag creature: 🔪🔪🔪 Arson Nicki! 🔪🔪🔪 Each week will feature a post-episode performance by Arson — 😱😱😱 Like what you see? Check out Rapture: A Queer Avant Garde Extravaganza 2nd Saturdays from 10PM 'til late in Timbre Room! Photo by: Kingmon Creative
Find out more »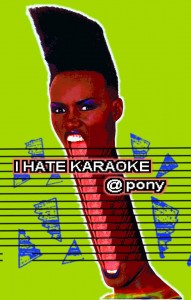 *this is a repeating event. if you can't make it this time and would like to attend in future, plz do join us for updates and news SONGBOOK: iphone app: http://ggnz.la/ggzmac (and type in GGNZLA) android app: http://ggnz.la/ggzdro (and type in GGNZLA) browser app: http://ggnz.la/karbook fb KARAOKE group: http://ggnz.la/karfb homemade original vids: http://ggnz.la/karaokechannel website: http://ggnz.la/
Find out more »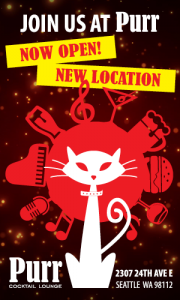 Marcus and Blacknail Productions will be back serving up Karaoke every Monday and Tuesday night from 9pm-1am at Purr's new location in Montlake! Our hours will be Mon - Fri noon to 2am, and Saturday and Sundays 9am-2am. We will be serving up a new full menu daily until 10pm, and Brunch on the Weekends until 2pm, then regular menu until 10. All Husky and Seahawk Games will be televised with sound every weekend! Great New Menu items to check…
Find out more »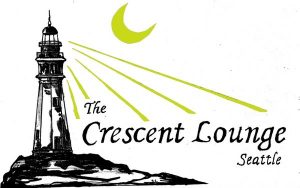 Tuesdays are Blake Sterling Karaoke 9 to close, Wednesday's: Pin(t) Up Wednesdays with Courtney McBride 9 to close, Thursdays: Perry KJ 9 to close, 21+ w/ID A True Neighborhood Bar. A Gay Karaoke Bar Where All Nice People Are Welcome. If you are coming in with a large group if is always appreciated that you call the bar and notify us in advance. It is not required and you are always welcome. This is just so we can…
Find out more »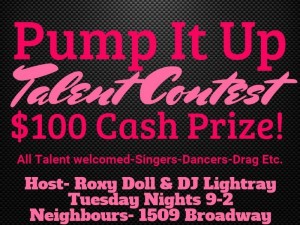 Come join Roxy Doll & DJ Lightray aka Rachael Valenti. Huge dance floor Drama Free space all your 80's-Goth-Industrial-EBM needs. We are open from 9:30-2 Tuesday nights bring your Vogue VIP Card or Talent VIP card both are good for a discount at the door. (Need a card please contact us) This is located in the Neighbours space on the main floor ALLEY ENTRANCE (NOT THE BASEMENT) TALENT WANTED! Looking for singers - Belly Dancers- Burlesque - Pole Dancers -…
Find out more »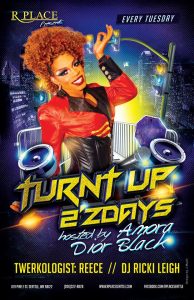 Just when you get comfy, we TURN UP on ya!! TURNT UP 2ZDAYS! Continue to serve you HIP-HOP & T40, by the one and only, DJ RICKI LEIGH, TURNT UP 2ZDAYS is your new excuse for taking Wednesdayoff! The beat drops at 10pm - NO COVER! 21+ R Place Bar and Grill - 619 East Pine St - 206.322.8828 HOURS: Mon-Fri 4 pm to 2 am. Sat & Sun 2 pm to 2 am.
Find out more »
+ Export Events