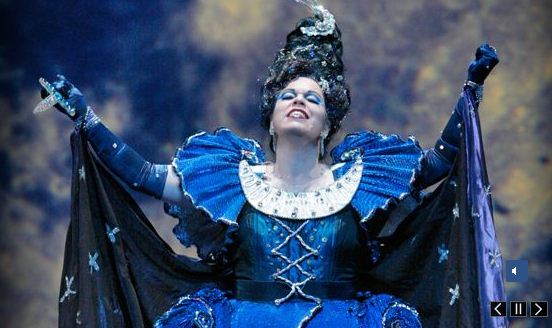 One of the most beloved operas of all time (and funniest) Mozart's The Magic Flute is the season closer for Seattle Opera's 2010/2011 season and one eagerly awaited by both hard core aficionados and the casual fan. For that reason, you shouldn't dawdle in grabbing tickets to one of the nine performances; the best seats for "Flute" can go quickly and you want to snag the best seats you can to check out the costumes designed by internationally renowned fashion designer Zandra Rhodes. The over the top icon has pulled out all the stops in the design for this production and they'll take your breath away. Here's a video with Ms Rhodes describing the design process:
Of course, that's just the visual side of "Flute"…the real reason it still resonates is the luscious music by Mozart and the imaginative and colorful libretto by Emanuel Schikaneder and the opera has been hugely popular since its original production in 1791 and was Mozart's last major completed operatic work before his death in December of that year. A magical, mystical tale taking place in ancient Egypt with heavy Masonic elements and imagery, the colorful work has been an operatic staple ever since and a great introduction for the "opera curious". It's a lighter work with beautiful music, fantastic imagery and mystery and a lot of comedic moments, and as a Singspiel opera, it contains regular spoken dialog in addition to the songs, making it more accessible for audiences more accustomed to Broadway musicals than sung through operas.
And, a reminder that the LGBTQ community is treated to a special night and a great offer from Seattle Opera with their LGBT Nights. For The Magic Flute, the designated night is Friday, May 20 and the offer includes admission to the pre-performance lecture, orchestra seating and an intermission reception for $100. To order tickets and for more information, check out the Seattle Opera website.
Tags: Seattle Opera, The Magic Flute