Holy Mighty Python Balls, Batman! Pride is here along with the sunshine, shirtless men and other beautiful specimens out there on Capitol Hill. I absolutely love this time of year as I come out of my shell a lot more and my friends see a true side of me that they usually enjoy much more than the nine-month-winter-gay-boy-with-relationship-issues. Still – the sun and warm weather helps my nerves and stress and I tend to get out of the house much more. This is the reason why you have not read much writing from me in the past couple of weeks and I apologize. The weekend ahead of us is filled with queens, leather daddies, queers, punks, glitter, wigs, wings, and everything else in between those lines. I've got some recommendations for you.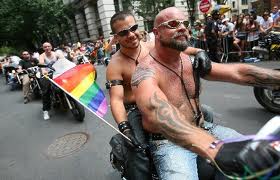 Yes! We start our weekend adventure tonight, Thursday, June 23rd. First things first: pull out your makeup, wigs, wings, and faerie dust because the fun is about to ensue and your trouble-streak demeanor is about to be unleashed. I love, love, love The Sisters of Perpetual Indulgence-The Abbey of St. Joan. Check them out tonight in a comedy and cabaret extravaganza called "Summer Soiree" at the Rendezvous JewelBox Theater Bar & Cafe. 2322 Second Ave in Belltown, 7pm, $20 adv/$25 DOS, all ages.
Friday, June 24th – I'm not going to lie, I really love the sissyboy-alternative-drag-other-side-of-the-train-tracks-type-of-queers and this event I find to be the best representation of this side of the community. It's time for "Comeback: Annual Gay Shame Edition" at Chop Suey. This monthly gay dance thing is hot, hip, sexy, and rebust. If you miss this – well, just be warned!!! An mob of very angry gay mafia members just may yank you out of bed at four in the morning and make you watch sappy 1990s Lifetime movies – so don't miss it! Chop Suey, 1325 E madison St, 9pm, $6 before 11pm/$10 after 11pm.

Sunday, June 26th – HEDWIG AND THE ANGRY INCH! She's back!!! Hedwig Robinson is bringing sexy back with a ONE NIGHT ONLY PERFORMANCE of Hedwig and the Angry Inch. Granted this is no Stephen Trask and John Cameron Mitchell – but would you pass up a live performance of Hedwig? You would? What kind of homo are you?? Besides it's at the historic Crocodile in Belltown and the tickets are $15 – all of which will go toward Dan Savage and Terri Miller's It Gets Better Campaign.
Little known fact: Did you know that you can now register for the 2011 Seattle AIDS Walk & Run? Last year they exceeded their goal of $500,000 and this year their goal has jumped to $600,000 and I'll be doing the run this year. Of course I'll need your help to reach this goal. I'll keep you updated when I get all setup for donations and sponsors – perhaps there will be a massive fundraising party involving booze, dancing and art?!? Just saying – get registered today and don't forget to get your HIV test done before summer's end!!!
Tags: 2011 Seattle AIDS Walk, B.Michael Peterson, Chop Suey, Comeback, Hedwig and the Angry Inch, Rendezvous, Seattle Pride 2011, The Crocodile, The Sisters of Perpetual Indulgence-Abbey of St. Joan