I came across these boys a couple of months ago and was taken with them from the first song I heard, "All Day Daylight". A catchy little pop song with hand claps and a sound reminiscent of a combination of Devo and Weezer. Not all their music sounds like this – it takes a few bumps and turns, which is what I enjoy about them. They do have a very polished, upbeat sound that comes across as a combination of 60's pop, mixed in with 80's pop and a hint of garage punk sprinkled in. "The Morning Benders" are  very simple, fun band that know how to play their instruments and know how to harmonize really well together. There's not much information out there about the band, but there is a good chunk of music videos and live performances they have recorded since their formation in 2005.
The band was started by Chris Chu who sings, plays guitar, and prodcues, as a solo project, eventually forming into a four piece band, and currently, according to their Myspace page, are a three piece band.
The Morning Benders have released two full length albums,"Talking Through Tin Cans" in 2008 and "Big Echo" in 2010, along with a handful of EP's in-between. I hardly heard a bad song in the bunch going through their catalogue. Below is just a small sample of some of their standout songs worth checking out!
"Excuses (Yours Truly)"-Sounds like a classic 50's love song, but with a unique turn.
Inspired by Phil Spector's "Wall of Sound", the band called a big group of their friends into the studio to add more back-up vocals. Part way through the song, the instruments stop and the roomful of people begin to sing a capella.  It's a beautiful moment and really quite amazing to get that many people that are not normally vocalists to harmonize so well together. The video looks like their in a high school band room with a few teacher's hanging around to join in on their jam session.
"Promises" has a funky bass line and a nice vocal harmony from the band with tempo changes through out. The song is about growing up too fast and what they see in the future.
"Boarded Doors" is a catchy, 50's surf style, 80's pop tune with fun guitar picks turning into a solo during the chorus.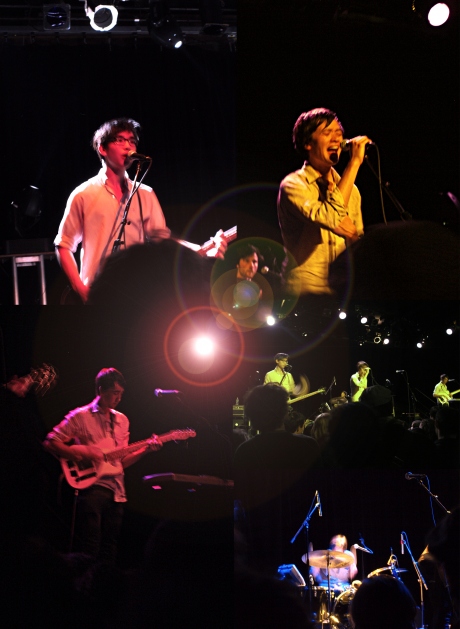 "Cold War" is a finger snappin' tune with an acoustic guitar and a xylophone. It's catchy chorus will having you bopping your head from side to side!
"Mason Jar" is more on the quiet side. A very pretty melodic tune with a bit of musical pick up during the chorus.
"Outlaw Blues" is a cover of a Bob Dylan song from the "Subterraen Homesick Blues" tribute album. It's a great cover played with an acoustic guitar, and beautiful haunting background vocals from an array of singers.
"Waiting For War" is a quirky 60's style tune of being tired of life moving on without you, while your feeling stuck in a dead end.
The band does a handful covers on their EP's, and another stand out  is "Lovefool" by The Cardigans. This version is vocal based, with acoustic guitar, a tambourine and more hand claps!
"Heavy Hearts" is another a pretty acoustic song that talks of putting in too much time in a relationship to walk away, but still knows it's the end.
The band is currently working on a new album, no release date has been announces but hopefully it will be this year!
"The Morning Benders" do have their own website that allows you a free download of their song "Promises" which is totally worth getting on their site for! However, the site does not offer much more than that. Instead check out their myspace page for a good catalogue of their music.
http://www.myspace.com/themorningbenders
Here is the link to the video "Excuses" as mentioned above. High School band class!
http://www.youtube.com/watch?v=7jgmgE-QDzA&ob=av2e
Happy listening!
Song Of The Week
"Sail On Sailor"-The Beach Boys 1973
I have never been a fan of  "The Beach Boys" and was shocked to hear this song I grew up with was recorded by them. This has prompted me to listen to more of their music. Check it out!
Tags: The Morning Benders