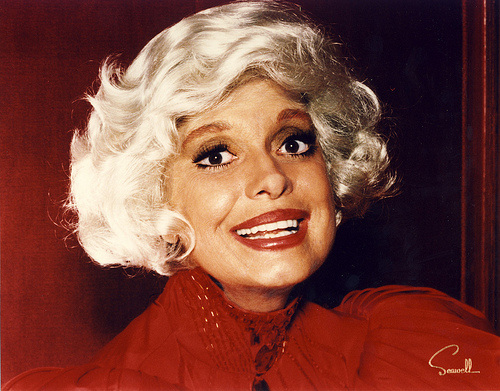 Who doesn't ADORE Carol Channing? She's been charming audiences since the Coolidge Administration (I keed, I keed…the Roosevelt Administration.) The multi talented actress and singer has been a star on Broadway, Film, and Television and through live appearances all over the world and has always had a huge gay following. The Seattle born diva, best known for creating Lorelei Lee and Dolly Levi on stage, and her role in "Thoroughly Modern Millie" (where the "Raspberries!" line originated,) is a national treasure and still kicking it at age 91.
Filmmakers Dori Berinstein and Adam Zucker think she's pretty amazing as well, so they made a documentary, "Carol Channing: Larger Than Life" which opens today, (Friday, March 16, 2012) at SIFF Cinema at The Film Center for a week long run.
The story of legendary performer Carol Channing's life is as colorful as the lipstick on her big, bright smile. In Carol Channing: Larger Than Life, director Dori Berinstein and co-writer Adam Zucker capture the magic and vivacity of the 90-year-old icon, onstage and off, past and present. Both an intimate love story and a rarefied journey inside Broadway's most glamorous era, the film is, above all, a look at an inspiring, incomparable and always entertaining American legend.
Screenings vary daily, so check the SIFF website for exact times. And, remember this film is screening at SIFF's new Film Center location at Seattle Center…it's located in the Northwest section of Seattle Center next to The Vera Project in the old Northwest Rooms which are roughly situated between Key Arena and Seattle Rep.
Fun Fact: Carol Channing is a quarter African American. She kept it a secret for decades to avoid discrimination but finally revealed the truth in her memoir. Ms Channing only learned the truth as an adult after her mother nervously informed her, "Don't be shocked if you have a black baby…" Ms Channing's only son, Chan Lowe is a celebrated political cartoonist.
Fun Fact #2: Her long marriage to second husband Charles Lowe appeared to have been quite happy, but after 42 years, Ms Channing filed for divorce claiming the couple hadn't had sex for decades…largely due to the fact that Charles Lowe was gay. He died before the divorce was finalized and Carol married a high school sweetheart she had reconnected with…they remained married until his death last year.
(Visited 1 times, 1 visits today)