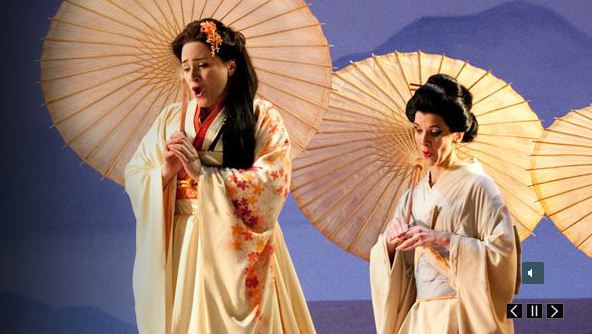 Puccini's beloved "East Meets West" opera, "Madame Butterfly" closes out the 2011/2012 season at Seattle Opera with performances on May 5, 9, 11, 12, 13, 16, 19, and 20, 2012. "One of opera's most beloved characters, Cio-Cio-San, will test the limits of faith and choose death over dishonor at the climax" of the work that inspired the hit musical, "Miss Saigon".
A Japanese maiden catches the fancy of a caddish American Naval officer, crosses cultural boundaries to become his bride, and grapples with a serious dilemma while faithfully awaiting his return. Puccini's story of tradition, romance, yearning, and sacrifice has been one of the world's most beloved operas for over a century.
In Italian with English subtitles | at McCaw Hall
Approximate Running Time: 2 hours, 45 minutes, with 1 intermission
Availability Update:
Best Availability: Saturday, May 19, 7:30 p.m., Sunday, May 20, 2:00 p.m.
Good Availability: Friday, May 11, 7:30 p.m., Wednesday, May 16, 7:30 p.m
Limited Availability: Wednesday, May 9, 7:30 p.m., Saturday, May 12, 7:30 p.m., Sunday, May 13, 2:00 p.m.
Tickets available here!
Tags: Madame Butterfly, Seattle Opera