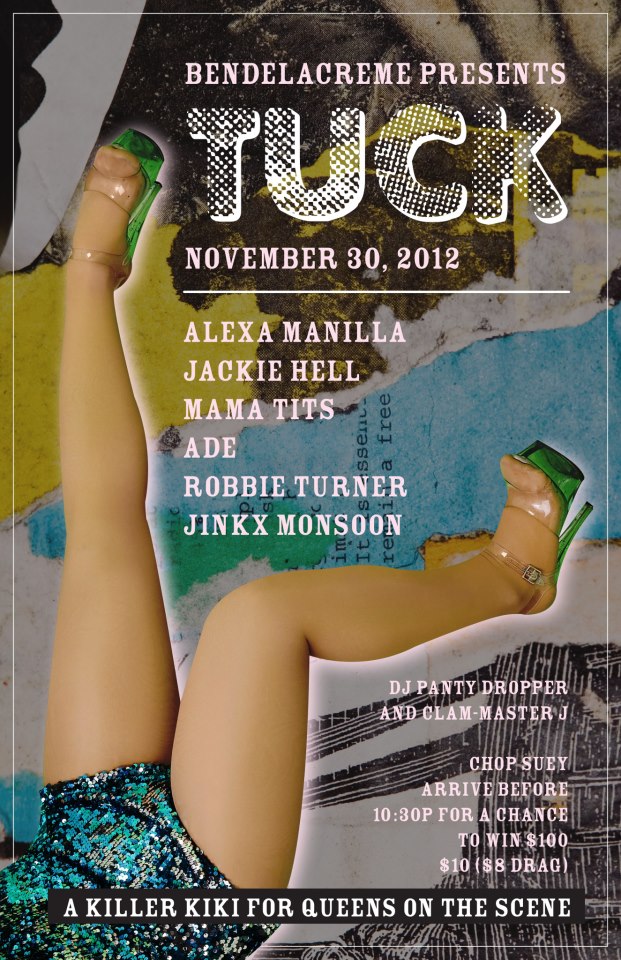 Jeebus…this is one mothertucking all-star line-up of drag queens! Ben DeLaCreme's putting on a bigass drag show called "Tuck" tonight at Chop Suey and you're gonna wanna EAT this bevy of drag beauties:
A Killer Kiki for Queens on the Scene.

Check the weave, lacquer the lids, and strap on those cha cha heels!

Pageant queens, gender-f*ckers, bearded ladies, fish – however you DO drag, however you LOVE drag- come out and FLAUNT IT.

No time to put together a look? No problem! Our beauty consultants are on hand to bring YOUR look to the next level:
Visit ALEKSA MANILA and JACKIE HELL in our MAKEOVER BOOTHS!
Get your whore-scope told by our featured fortune teller and ass-strologist, ADE!
Feelin' Frisky? Saddle up to JINKX MONSOON's late night kissing booth!
Also featuring ROBBIE TURNER, MAMA TITS and your HOSTESS BENDELACREME!
Put that sweat-proof makeup to the test with DJS PANTY DROPPER & CLAM MASTER J!
THE HOUSE OF CHARLATAN will be tearin' up the dance floor all night!

Performances throughout the evening!
Happy hour drinks until 10:30!
ARRIVE BEFORE 10:30 AND BE ENTERED TO WIN $100!

Nov 30th
Doors at 9pm

21+ w/ID

$10 at the door
or $8 in DRAG
Do IT!