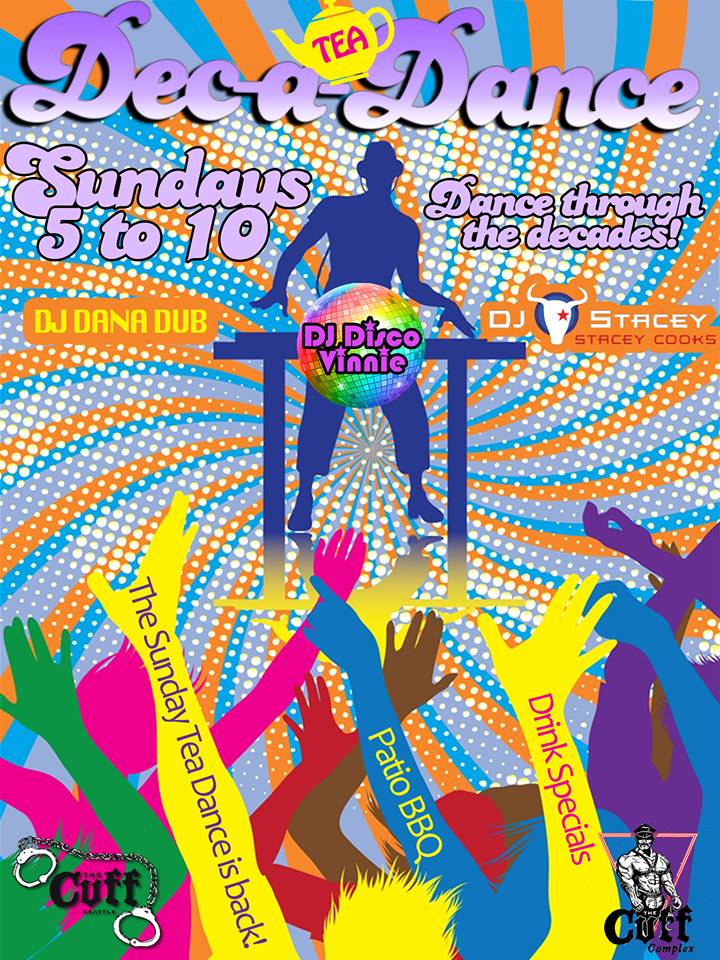 Ya know, most people take Sundays off to chillax and have a leisurely day perusing the NY Times and eating eggy things and planting herbs in the garden and making passionate love with their husbears in their PapaSan chair. Not DJ Disco Vinnie…he's been doing "Mimosas With Mama" the Sunday drag brunch with Mama Tits and her Crew for the last year, first at The Grill on Broadway (R.I.P.) and now at The Unicorn/Narwhal (1118 East Pike St/Capitol Hill) complete with a breathless performance as all the male characters in their currently running 2nd act show stopper, "30 Minute-ish 'Hairspray'". You can check it out today with tix at the door, or down the road by grabbing tickets on line. (Note that there is no show on Pride Sunday, June 30…Mama Tits and Her Love Posse, including Disco Vinnie, will be performing as the closing act at PrideFest at Seattle Center.)
But, now the perkiest, happiest dj in Seattle has added some new duties to his Sunday "To Do List"…he's whipped together a brand new Sunday evening Tea Dance party for The Cuff called DECADANCE with the help of DJ Dana Dub and DJ Stacey Cooks. It kicks off TODAY, Sunday, June 16 at 5pm and partying on until 10pm. Here's what to expect in Mr. Vinnie's own words:
I'm bringing back the Sunday Tea Dance and we're gonna Boogie Oogie Oogie like it's 1999 Baby. Great patio BBQ, drink specials and the phenomenal dance music videos being spun by yours truly. If you loved the Timberline way back when then this is your Cup Of Tea fashizzle. Starting at 5pm will hit the Super 70's, and then TIME WARP half way through to the Awesome 80's. I promise I'll hit all the good spots!!
Vinnie knows how to touch all your "good" spots…for lovers of classic old skool Sunday Tea Dances, this is a Must Do.
Check it out.
(Visited 1 times, 1 visits today)