We suspect it's a dream come true for beloved Seattle DJ Disco Vinnie…the unshy zexy exhibitionist is usually decked out in the craziest outfits imaginable for his DJ performances at shows around town but particularly at his weekly gig at "Mimosas with Mama" the Mama Tits hosted weekly drag brunch at The Unicorn/Narwhal where Vinnie serves as house DJ/Sound Guy and plays all the male roles in the show's uber popular 30 minute-ish musicals…you should catch him in "Mimosas" current hit show "The Wicked Wiz(ard) of Oz"….it's terrific! (Grab Tickets HERE!!)
But, we just KNOW Vinnie is beside himself to also channel his inner retro pin-up boy and he got to fulfill a long held fantasy by posing centerfold style for one of our favorite photographers, Mr. Tim Harmon. Here's DJ Vinnie in his best Burt Reynolds Cosmo Centerfold mode and all a part to sell his gig as special guest dj for WILD KINGDOM this coming Saturday, May 3, 2014 at The Cuff Complex, 1533 13th Avenue (13th & Pine) on Capitol Hill. Here's mo' of the story:
Woof, Grrrrrrr and Rawr! That's right, put on your best animal print or fur and join me this Saturday for the wildest night of dancing on the hill. I'll be spinning the latest Top 40 Dance Videos to keep your grooving all night long.

Drink Specials will be offered to anyone wearing their ferocious fur, and cover is only FIVE DOLLAH!! HOLLAH!!

Come Bears, Come Otters, Come Cubs, Come Manthers….yes I said Manthers. Just COME!!! Love to Love Ya Baby!!
The party lasts 10pm to 3am and yes, it's 21+ w/ID.
Here's a friendly warning for ya…it's VERY dangerous to feed the ManThers after midnight…their appetites are INSATIABLE!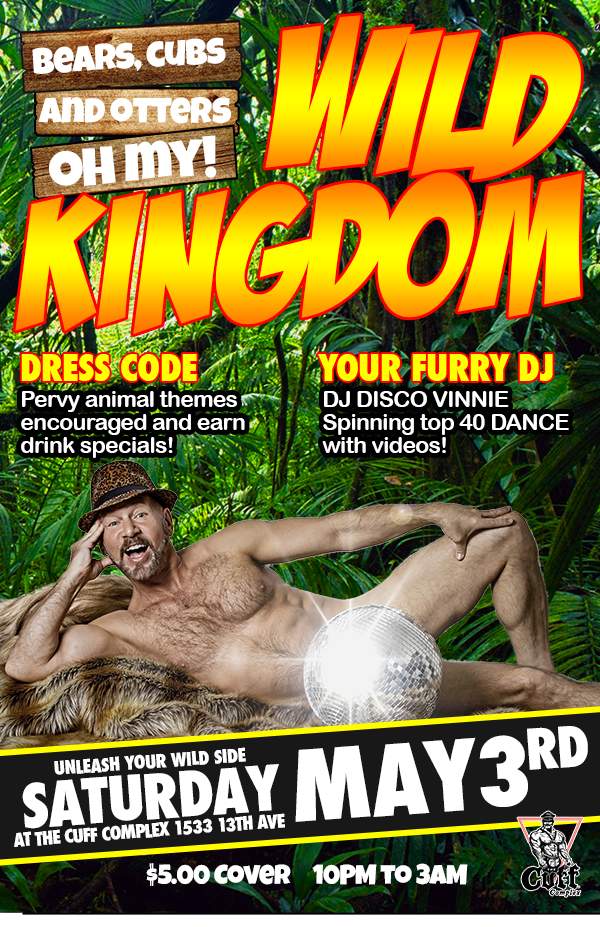 (Visited 1 times, 1 visits today)