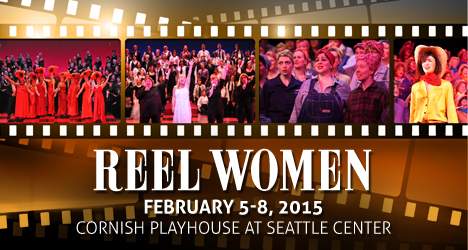 Admit it. You've seen Pitch Perfect. And you'll probably see Pitch Perfect 2. (Because Rebel Wilson.) But you don't have to wait for the movie to get your choral music fix! 
Coming up February 5-8, catch the Seattle Women's Chorus perform their latest concert: Reel Women. It's a show celebrating women in film, from Disney princesses to the earliest femme fatales. Hear all of your classic favorites, including "Hooray for Hollywood,"and, of course, everyone's new favorite empowerment song, "Let it Go." Films like Fame, Working Girl, Erin Brokovich, The Hunger, Silkwood and The Bodyguard will be featured. What, no Steel Magnolias? Guess we'll find out! A capella group Sensible Shoes will also be there to make you giggle with their interpretations of Disney princesses and the people who love them. We just can't get enough Disney princesses, can we? Boobs and all?
Founded in 2002, the SWC brings out the Big Gay Agenda by spreading peace, awareness, celebration, and harmony (see what I did there?). While most of these performances will be at the Cornish Playhouse at Seattle Center, they will also do a special show at South Whidbey High School in Langley to benefit CADA, or Citizens Against Domestic & Sexual Abuse on February 15. For a mere $25, we know you'll appease the little do-gooder in you.
There'll be a special "Friends & Family Preview," kind of like a dress rehearsal, at the Renton IKEA Performing Arts Center on Januray 31 at 8pm for a mere $10. It'll be your chance to interact with the singers and directors, as well as to give constructive critiques, if that's your thing.
So, ready to re-live your grade school chorus days? Many of us don't care about it post-high school, unless we end up being music majors in college. But the recent success of shows like Glee, The Voice, The Sing-Off, and movies like Pitch Perfect have brought a new awareness into the power of pure song. Let's face it, folks: Those of us who actually understand music and pitch know that most of today's pop singers on the radio are just yelling with auto-tune. *Shakes fist, exclaims, "Kids these days!"* That's why there are still choirs in the world, and Seattle houses the largest LGBT-focused singing groups in the country.
Tickets start at $25. Yay, affordable entertainment!
(Visited 1 times, 1 visits today)