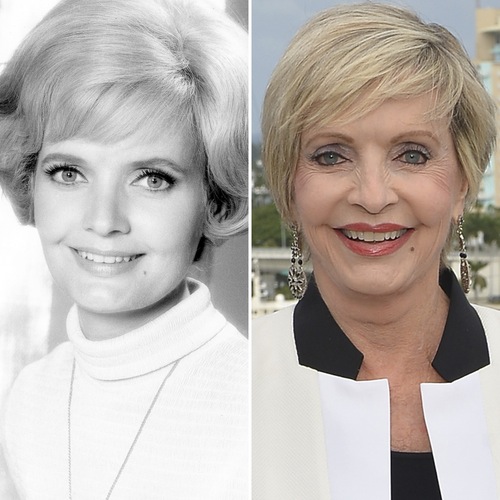 Obviously, we're going to raise a toast to a VERY lovely lady we lost yesterday at age 82.
The deliciously divine FLORENCE HENDERSON, best known to millions of fans as the perfect mom, Carol Brady on the immortal television sitcom THE BRADY BUNCH passed away Thanksgiving Day, November 24, 2016 surrounded by her four children.
Elder folks might also remember Henderson from her years as an "almost Broadway legend" as the actress starred in numerous Broadway shows in the 1950s and early 60s but never quite become a legendary musical theater performer as she frequently was a replacement cast member in long running shows or had the misfortune to be featured in new work that didn't quite catch on. Still, Florence Henderson became a familiar face via television appearing as a guest on many shows as well as serving as "The Today Girl" on NBC's Today morning program in 1959/60.
Henderson thought she had finally received her big break in 1969 after being cast in the leading role in the film adaptation of Song of Norway which hoped to achieve the success of The Sound of Music but the movie was a notorious bomb. Fortunately, immediately after filming "Norway", the actress was cast in a pilot for a new family sitcom about a divorced mom with three daughters marrying a widower with three sons. That show, a blatant ripoff of other popular at the time large blended family stories like the Lucille Ball/Henry Fonda film Yours, Mine and Ours was picked up by ABC-TV and became the beloved Friday night family comedy hit The Brady Bunch which ran in its original format through 1974 with Robert Reed playing her husband, Mike Brady and familiar TV comedienne Ann B. Davis as their wisecracking housekeeper Alice.
Because the show was such a hit with kids (even after it was canceled it continued to be very popular in syndication) it became a cultural phenomenon and was brought back in different forms for the next 40 years as a bizarre variety show (The Brady Bunch Variety Hour) which showcased Henderson's chops as a singer, then as another sitcom focusing mostly on the lives of the two oldest Brady daughters (The Brady Brides) before being resurrected in the 90s as a Christmas holiday reunion television film (A Very Brady Christmas) that scored such high ratings that it led to yet another series revival, this time as a soapy family dramedy (The Bradys).
But, the show lived on beyond the television screen as it was adapted into two films (featuring cameos from the original cast) and a campy theater play. Pretty much every member of the cast has written a book (or two) about their experiences as a "Brady" including Henderson who last wrote a memoir 6 years ago where she revealed an intriguing story about working with her onscreen Brady husband, played by closeted gay actor Robert Reed. Here's the story from her book Life Is Not a Stage, as recalled in this post:
In her new autobiography, Florence Henderson recalls the actor's initial discomfort doing love scenes with his TV wife. Here is an excerpt…

We had been doing a love scene that had gone fine in rehearsal but wasn't working to John's liking the way was doing it. I felt like I had to step in and do something.

"Excuse me for a moment," I said to Bob. I had suddenly realized the source of the problem. I left him and walked out of camera range and took [the director] off to the side.

"Just back off," I told the director. "Don't say anything or make a big deal out of this, but Bob's gay. He's nervous about this scene."

I told him I knew how to handle it. I went back on the set and we started up again. I don't remember what I said specifically to Bob, but I took extra care with him to make sure he felt comfortable. In that moment, I tried to love him as hard as I could and make him feel great. I wanted him to feel romantic and sexy as all get out. And perhaps, if he knew I was comfortable about him and his sexuality, he didn't have to feel bad about playing that role. I don't think the crew caught on to this in the beginning as I had, but most did as the show went on.

Every time we'd do a romantic scene, the same nervousness would come up. We'd laugh as he came on to the set in his pajamas. I think on those days he would frequently self-medicate by drinking more than usual at lunchtime.
Robert Reed died in 1992 from cancer and complications from AIDS. After his death, Henderson and the rest of the cast acknowledged Reed as a great TV dad. And, even in her Los Angeles Times obituary, Henderson was praised as an ally for the LGBTQ community.
Henderson was also known as an advocate for gay rights. The actor who played her husband on the "Brady Bunch," Robert Reed, was gay and suffered from AIDS when he died of cancer in 1992.

Henderson said in a 2014 interview with Gay Star News that if the show were being made today, she hoped the Mike Brady character would be openly gay.

"At the time that we actually did the show, they wouldn't have addressed that," she said. "But if the show were on today, I think it would definitely be addressed. After all, their father was gay."
With Florence Henderson's death, all the adult leads from The Brady Bunch have passed (Ann B. Davis died in 2014). Only the six Brady Kids are still with us with oldest son "Greg" Barry Williams still clinging on to show business at age 62 and oldest Brady daughter, Maureen McCormick, 60, just wrapping up a stint on the latest season of Dancing with the Stars. Florence was still a loyal "mom" and supporter to her TV "kids", making her final public appearance at a DWTS taping just days before her death.
Our favorite TV mom has left us but Florence Henderson will live on for quite a long time as the one and only Carol Brady.
A toast to Florence Henderson!
(Visited 1 times, 1 visits today)