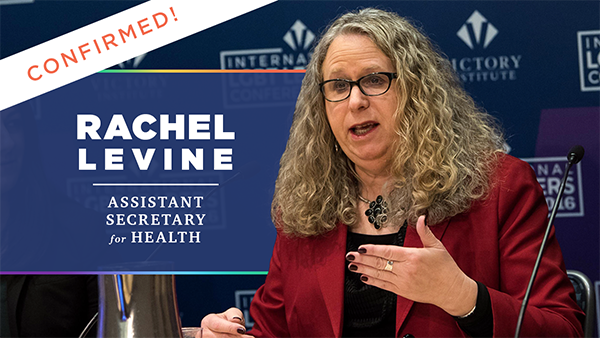 Dr. Rachel Levine made history on Wednesday, March 24, 2021 by becoming the first transgender citizen to be confirmed by the United States Senate to a high ranking appointed post in the government. She joins Pete Buttigieg who was confirmed as Secretary of Transportation earlier this year, as the highest ranking members of President Joe Biden's administration.
After a contentious hearing process that included inflammatory transphobic remarks made by Senator Rand Paul, Dr. Levine's nomination was eventually advanced to a final vote in the Senate where she was confirmed with a 52-48 vote. Senators Susan Collins of Maine and Lisa Murkowski of Alaska broke ranks with Republicans to vote for Levine's confirmation as Assistant Secretary of Health.
Dr. Levine is more than qualified for the job, having just stepped down as Secretary of Health in Pennsylvania where she led that state's response to the Covid-19 pandemic. A graduate of Harvard who began her career as a pediatrician in New York City, Dr. Levine has decades of experience as a public health official.
Comments of support via Victory Institute:
"President Biden committed to appointing our nation's most qualified leaders to tackle the pandemic and he delivered in choosing Dr. Levine. Yet the importance of this moment extends well-beyond the health of our nation alone. At a time when hateful politicians are weaponizing trans lives for their own perceived political gain, Dr. Levine's confirmation lends focus to the contributions trans people make to our nation and deflates absurd arguments calling for their exclusion. Her experience leading the health department in Pennsylvania will serve our country well and her unique perspective regarding healthcare for trans people will be invaluable."

– Mayor Annise Parker, the President & CEO of The Victory Institute
And, Ruben Gonzales, the Executive Director of LGBTQ Victory Institute, had this to say:
"Dr. Levine's confirmation is an exciting, profound moment in our nation's history and will be viewed as a milestone in our community's march toward equality. While a bipartisan majority of senators voted with the best interests of our country in mind, a minority prioritized anti-trans hate over an honest review of Dr. Levine's qualifications. Their vote to ride the extremist political winds of the moment will be judged in time, because history never looks fondly on those who vote on the side of bigotry."
Victory Institute's Presidential Appointments Initiative, which includes a coalition of more than 30 LGBTQ and allied organizations, was outspoken in urging the Biden administration to nominate Dr. Levine for a Senate-confirmed position because of her qualifications. The Initiative will put forward hundreds of exemplary LGBTQ candidates for positions throughout the administration and advocate for their consideration. It aims to help the Biden-Harris team create the most LGBTQ-inclusive administration in U.S. history.
About Victory Institute
LGBTQ Victory Institute works to achieve and sustain global equality through leadership development, training, and convening to increase the number, expand the diversity, and ensure the success of openly LGBTQ elected and appointed officials at all levels of government.
(Visited 1 times, 1 visits today)