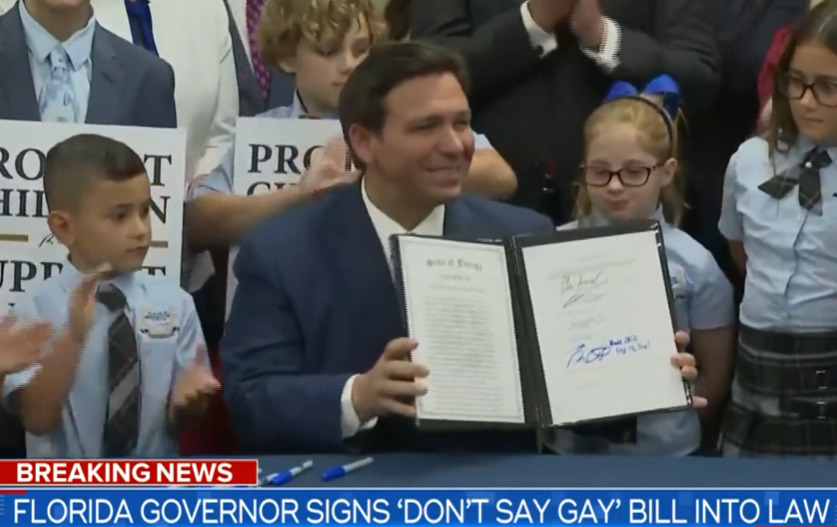 On Monday, March 28th, Florida Governor Ron DeSantis signed into law the legislation known nationally as the "Don't Say Gay" bill which was passed by both houses of the state legislature last week. The new law prohibits schools in the state from any kind of discussion about LGBTQ issues in the classroom.
At a news conference following the signing, DeSantis remarked:
"We have seen a curriculum embedded for very young children, classroom materials about sexuality and woke gender ideology…We've seen libraries that have clearly inappropriate, pornographic materials for very young kids. And we've seen services that were given to students without the consent or even knowledge of their parents across the country and unfortunately, that's happened here in the state of Florida."

Ron DeSantis
The Human Rights Campaign quickly responded with their own statement, condemning DeSantis and the hateful new law. Via HRC:
Today, the Human Rights Campaign and Equality Florida condemned Florida Gov. Ron DeSantis following his signing of Florida's "Don't Say Gay or Trans" bill (HB 1557) — discriminatory and dangerous legislation that seeks to silence teachers from talking about LGBTQ+ issues or people, further stigmatizing and isolating LGBTQ+ kids and also undermining existing protections for LGBTQ+ students. The legislation — which has triggered major backlash from educators and students across Florida and the country — would prevent teachers from providing a safe, inclusive classroom for all students. Both organizations pledged to fight until this dangerous attack on the LGBTQ+ community is either struck down or repealed in full.
"Today, Governor DeSantis once again placed Florida squarely on the wrong side of history, and placed his own young constituents directly in harm's way – and he has done this for no other reason than to serve his own political ambitions," said Joni Madison, Interim President of the Human Rights Campaign. "We're staring at a new reality where LGBTQ+ students may wonder if they're allowed to even acknowledge their own sexuality or gender identity; a reality where young people with LGBTQ+ family members may be forced to remain silent while others can speak freely; a reality where LGBTQ+ school staff may be forbidden from so much as mentioning their loved ones. The existence of LGBTQ+ people across Florida is not up for debate, and this restriction on free speech flies in the face of one of our most sacred rights. So, let's be clear – this bill must be repealed. We are proud parents, students, and teachers, and LGBTQ+ people deserve to exist boldly and openly, just like everyone else."
"Governor Ron DeSantis signed the 'Don't Say Gay' bill in the most cowardly way possible today. He hid his agenda from the media and the public until the last moment, skulking onto a charter school campus that is exempt from the law and away from students who would protest his presence," said Nadine Smith, Executive Director of Equality Florida. "He has attacked parents and children in our state by invoking hateful anti-LGBTQ stereotypes all to pander to his right-wing base as he prepares to run for President in 2024. DeSantis has damaged our state's reputation as a welcoming and inclusive place for all families, he has made us a laughing stock and target of national derision. Worse, he has made schools less safe for children. Equality Florida will defend the rights of all students to have a healthy environment to learn and thrive and for all parents to know their families are included and respected. This law will not stand and we will work to see it removed either by the courts as unconstitutional or repealed by the legislature."
LGBTQ+ kids have real threats and obstacles to overcome. 86% of LGBTQ+ youth report they have been targets of bullying, harassment, or assault at school. Studies have shown that bullying and harassment of LGBTQ+ youth contribute to high rates of absenteeism, dropout, adverse health consequences, and academic underachievement.
"This is another stain on Florida's history, and history will hold every last one of them accountable," said Florida State Sen. ​​Shevrin Jones during a virtual briefing last week hosted by HRC. "We will be held accountable with what we say and what we don't say, and that's why I am here today. We are going to push back now, and we are going to continue to push back until we let it be known we have a right to be here, and we have a right to raise our families in the same communities that they are allowed to raise their families in."
And, American Federation of Teachers President Randi Weingarten also issued a statement condeming the law:
"This bill—and all the ones like it—single out certain kids and families for derision and denigration. It is just wrong. Its intent is to divide our communities and make political hay, but it hurts children, hurts families and makes it hard for teachers to do their jobs. Make no mistake, this bill will have devastating real-world consequences—especially for LGBTQIA+ youth who already experience higher rates of bullying and suicide. And for teachers and school staff who work tirelessly to support and care for their students, this bill is just another gross political attack on their professionalism. 

"Gov. DeSantis often speaks of freedom, but it turns out he's only interested in the freedom of folks who agree with him politically. After two years of disruption, lawmakers should be providing more support for their students, instead of shaming LGBTQIA+ people back into the closet by policing their identity or stopping kids from talking about their same-sex parents. This assault on our children and on our teachers needs to end. Our organization will continue to work with parents, educators and their students to ensure our schools are safe and welcoming environments for all."
U.S. Secretary of Education Miguel Cardona also made a statement that his departmant is investigating the Florida law for possible federal civil rights violations. It's possible that the law will end up in the federal court system.
"By signing this bill, Gov. DeSantis has chosen to target some of Florida's most vulnerable students and families, all while under the guise of 'parents' rights….Make no mistake: this is a part of a disturbing and dangerous trend across the country of legislation targeting LGBTQI+ students, educators, and individuals."

– U.S. Secretary of Education Miguel Cardona
The new law has also been condemned by major groups nationally as well as by business groups in Florida with many calling the law, "a hate crime".
(Visited 1 times, 1 visits today)