"Prancing around in Mormon Drag…" Roger Benington spills the beans on "The Mormon Bird Play"
Playwright/Director/Designer Roger Benington talks to filmmaker Wes Hurley about "The Mormon Bird Play" currently playing at the Washington Ensemble Theater.
Six male actors play little girls, who become birds, who manifest themselves as Mormon temple workers and Mormon pioneer women. This is the allegoric dream-world of The Mormon Bird Play, a darkly-twisted new comedy in which ten year-old Ivona–ugly, gawky, and mute–comes to live with her Mormon cousins in Salt Lake City. When she finds an injured bird on the grounds of the LDS Temple, Ivona immediately becomes an object of suspicion, dangerously reflecting the ills of the culture that surrounds her. Can that society suffer a mirror of its own imperfection, or must that mirror be shattered?

Roger Benington is a two time Gregory Award Nominee for 2011;  Best Director (SEXTET and O Lovely Glowworm) and Scenic Designer.

OCTOBER 28TH TO NOVEMBER 21ST, 2011 AT 7:30 PM
Roger Benington on "The Mormon Bird Play" from wes hurley on Vimeo.
Buy tickets to see this amazing new play at Brown Paper Tickets.
Filmmaker Christopher Hines talks gay relationships with Marc Kenison.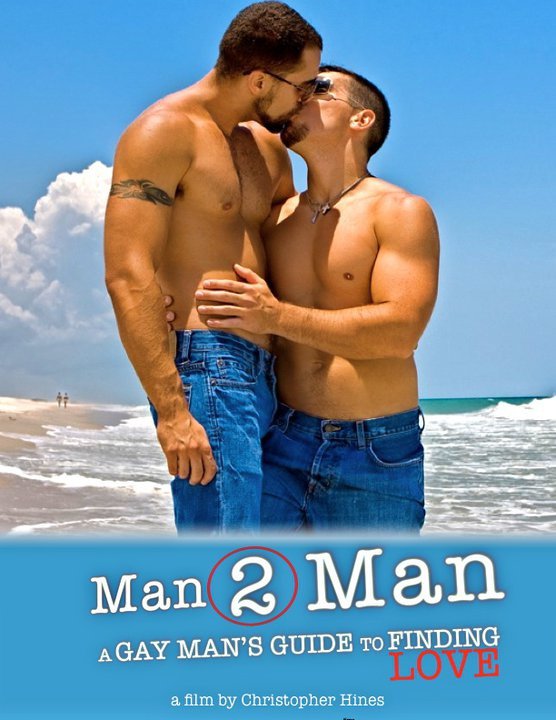 Marc Kenison (Waxie Moon) interviews Christopher Hines, the director of "The Butch Factor" and "Man 2 Man" for Seattle Gay Scene. Hines discusses his films, shares his views on gay relationships and talks about the new generation of GLBT activists.
Seattle Gay Scene: Marc Kenison interviews filmmaker, Christopher Hines from wes hurley on Vimeo.
SGS goes to the "Heart Breaks Open" premiere and after party at Purr.
We've been busier than a hooker during Fleet Week as we bop all over the place covering the films, the guests and the parties of the 16th Seattle Lesbian & Gay Film Festival. Tuesday night we went to the hot Seattle premiere of the locally made (and excellent) "Heart Breaks Open" at the Egyptian followed by the equally hot afterparty at Purr. The cacophony of the karaoke and dim lighting drove us outside for video interviews with co-star Brian Peters, director Billie Rain and writer/producer Basil Shadid (star Maximillian Davis craftily avoided our camera) and we got some lovely shots in the glare of outdoor street lights set against the graffiti covered walls outside Purr…it was delightful and thanks to Alex Berry for the always excellent videography.
Furries on Film with Chris Diani!
If you've been anywhere in the last month or so, you've likely seen a bunny, a beaver or a piggy running around dispensing candy and postcards. We get an incredible opportunity to interview the man inside the suit – Chris Diani, filmmaker – and talk to him about his new feature film LET'S PRETEND WE'RE BUNNY RABBITS – a quirky, screwball comedy with Furries.
Our new heroes at QTET…
Have you ever had a hero younger than yourself? When I meet teenagers who are more brave, articulate and OUT than I was at their age, they're automatically my new heroes. Even if they weren't in their teens, it's always exciting to meet people who are doing extraordinary and creative things, especially when they're reaching out and helping amazing kids be even more amazing. The other day, we posted a piece about the Queer Teen Ensemble Theatre, led by Jessica Hatlo, and their new show, playing at Washington Ensemble Theatre.
Michael Strangeways sits down with Jessica and some of the participants in the program before the opening of I'VE NEVER: OR THE RIDE OF LADY GAGA'S UNICORN. Tickets for the last two performances can be found HERE. Go see it tonight!
UPDATE! QTET has added a Monday performance for folks too busy to go during Pride Weekend, (and because the shows have been selling out.) Go to BrownPaper Tickets to book your tickets.
SGS-TV Interview: Nick Garrison switches hats to direct Strawshop's "Cloud 9"
We have a category on Seattle Gay Scene labeled, "The Nick Garrison Fan Club" because we make no bones that we are ardent fans of the Seattle actor/chanteuse/host whether he's en travesti in a Brown Derby parody, or rocking the world doing Hedwig & the Angry Inch, or trodding the boards at Seattle Rep or the 5th Avenue, or singing in his Weimaresque cabaret troupe, The Love Markets or just bopping around town doing whatever his little heart desires. We're big, ole donkey school girl fans of Mr. G and we make no bones about it.
And, this big ole donkey school girl fan is very excited that Mr. Garrison's artistic heart is switching its desire from acting and singing to directing actors and singers in Strawberry Theatre Workshop's upcoming production of Caryl Churchill's beautifully written farce, Cloud Nine, which runs July 7 through August 6 at the Erickson Theatre Off Broadway, behind the Egyptian Cinema on Capitol Hill. Cloud Nine examines sexuality, gender, race, colonialism, patriarchy, love, sex and various acts of perversion and still manages to be both poignant and hysterically funny. It also doesn't hurt that this production has an astonishingly talented cast that includes Sarah Rudinoff, Ian Bell, Basil Harris, James Cowan, Imogen Love, Gretchen Krich and Scott Shoemaker. It's a Dream Team of talent and you can get your tickets HERE via Brown Paper Tickets.
We were determined to talk with Mr. Garrison about this production, and his switch from Actor to Director and theatrical life in Seattle in general, so we nagged them enough that he and Strawshop agreed to let us film an interview on the stage at the Erickson Theatre. The interview was ridiculous amounts of fun, and we talked for over an hour, but edited it down to focus on Cloud 9, with a couple diversions to discuss The Love Markets, and a big show coming up for Nick next February at Seattle Rep, I Am My Own Wife. And, the half hour we didn't use, might get spun off into its own series…you get gay theater boys yakkin' about theater and Marlene Dietrich, we just don't shut up…
Chatting with the men of AUGUST…
Posted: 6/14/11
We got to meet two amazing guys – director Eldar Rapaport and star of AUGUST, Murray Bartlett. They walk us through the creation of AUGUST that premiered at SIFF on June 9.
Talking to The Nerdist Himself… it's Chris Hardwick!
Posted: 6/07/11
If you don't already know Chris Hardwick, he's about to eat your airwaves – his podcast is now the hottest thing going, he's on G4, and he's just signed a hot new deal with BBC America for a series of shows called MINISTRY OF LAUGHS, and has committed to a TV pilot based on his podcast. And, he doesn't look half bad in a speedo!
It would be easy to reduce my continuous plugging of Nerdist.com and Chris Hardwick to rampant fanboy leg humping, but the thing I dig most about Chris is his absolute human-ness, and his ability to embrace his Nerddom in a most extraordinary way. Right before he went on stage at The Showbox this past Saturday, he was kind enough to open his greenroom to us for a casual chat to talk about geekly matters.
Big thanks to Chris for making intelligence a virtue, proving that honoring the DIY aesthetic can lead to success, and showing that smart people are Pro-Equality for all.

MAN AT BATH Star François Sagat…
Posted: 5/30/11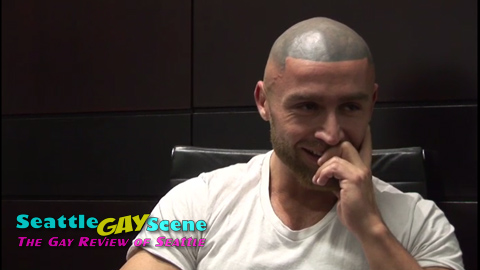 Les and Michael sit down to chat with the impossibly gorgeous star of MAN AT BATH, François Sagat before the second screening of his new film, directed by Christophe Honoré.
We talk about MAN AT BATH, last year's bloody, gory Bruce LaBruce spectacular LA ZOMBIE which starred Mr. Sagat, and his burning desire to appear in a John Waters film alongside Mink Stole… thereby removing any doubt about whether or not he is actually gay.
Interview: Jackie Monahan and Madeleine Olnek from SIFF film, "Codependent Lesbian Space Alien Seeks Same"
Posted: 5/28/11
It's so damned much fun talking to filmmakers! We get to chat with Madeleine Olnek, director of CODEPENDENT LESBIAN SPACE ALIEN SEEKS SAME (playing this weekend at SIFF), and actress Jackie Monahan who came in from New York for SIFF, in their hotel room for some coffee and chat. We talk about thieving lesbians on Ecstasy (which isn't actually in the film…), naked solo pizza wrestling (also not in the film…), and aliens on a quest for heartbreak, in an effort to save their home planet (that actually is in the film!)

(Visited 6 times, 1 visits today)