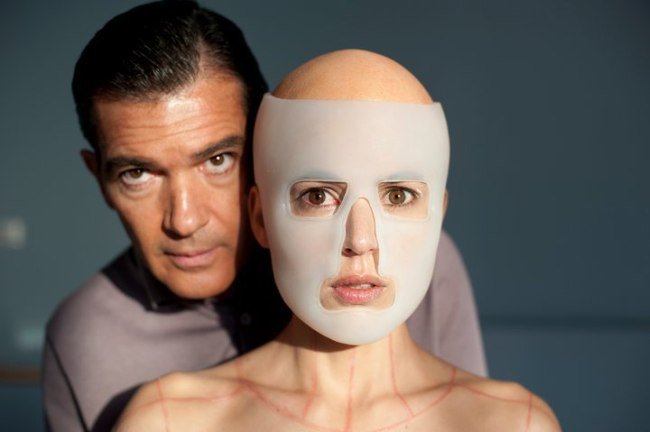 We love, love, LOVE Pedro Almodovar and his films (one of a handful of great auteur filmmakers working today) and we're 37 shades of excited about his newest film, La Piel Que Habito which translates as "The Skin That I Inhabit". It's based on Thierry Jonquet's novel Tarantula and concerns a plastic surgeon seeking revenge on the men who raped his daughter, (sounds like an episode of Nip/Tuck). Also exciting: this film marks the reunion of Almodovar with actor Antonio Banderas who got his start over twenty years ago acting in such Almodovar films as Woman on the Verge of a Nervous Breakdown and Matador. Banderas plays the lead role of the plastic surgeon but some reports indicate that he's not a very heroic character, locking up his wife and using her as a sex slave, and committing brutal atrocities in the name of revenge. And, another Almodovar regular Marisa Paredes also turns up; you'll remember her as the aging lesbian actress from All About My Mother, who was acting in a production of A Streetcar Named Desire as Blanche DuBois that figures significantly in the film. I'm GUESSING she might play the brutalized wife in the film.
It's interesting to see Almodovar explore dark, Hitchcockian waters with this film that verge on outright horror…the photo from the film is also an interesting hommage to the classic French horror film, Eyes Without A Face by Georges Franju…this film is obviously going to be pretty badass. (Almodovar is calling it a "terror" film as opposed to a "horror" film.) And, who doesn't love a good revenge film? Truffaut's The Bride Wore Black and Tarantino's Kill Bill are both favorites of mine. (Also, it's not just the film that generates excitement and anticipation; the soundtracks to Almodovar films also kick ass.
The film opens in Spain in September and while no date has been announced in the US, expect it to hit cinemas by the end of the year to qualify for award nominations. Oh, and here's a shot of Antonio from an earlier Almodovar collaboration, 1987's Law of Desire where he played gay.