Ryan is busy this week working on Three Dollar Bill's big annual fundraiser/dinner/auction "Velvet Goldmine" which takes place TONIGHT, Friday, March 25 and yes, a few tickets remain...Go and help that fine organization out so LGBTQ Seattle can enjoy their programming year round…
Looks like there are just two big national openings this week, with the "biggie" being Zack (300) Snyder's Sucker Punch, an action fantasy film about a young woman sentenced to an asylum who must enter an alternate reality to rescue herself and her fellow kickass inmates. It stars Emily Browning, Abbie Cornish, Jena Malone, Vanessa Hudgens and Jamie Chung as the tough chicks with everyone's favorite Don Draper, actor Jon Hamm in a supporting role. Snyder describes the film as "Alice in Wonderland with machine guns" and it offers the director's usual visual thrills and features most of the crew he used on his previous film, Watchmen, (both films were filmed up the road in Vancouver, B.C.). The film looks astonishing; that's Snyder's strong suit; it remains to be seen if he can deliver a film with a decent storyline…Rated PG-13 the film is on screens all over the metro area, including Pacific Place and the Cinerama.
For the kid in all of us, you have the option of Diary of a Wimpy Kid: Rodrick Rules a sequel to last year's hit for the tween set and adapted from the popular series of children's books. It looks precious…if you're 12. But, we acknowledge that two or three people with kids probably read our column so we need to mention it. Family fun for the entire family, blah, blah, blah. It also plays at Pacific Place, the Oak Tree and dozens of other screens in the area. Release your inner wimp, and go.
More grown up options for Seattle film fans include The Round Up (aka La Rafle) from director/writer Roselyne Bosch and starring Mélanie Laurent and Jean Reno. Yes, it's another Jewish Holocaust story and the cinema world does have a tendency to go to that well a bit often when panning for glory and awards, but The Round Up does offer a different look at this universal story, (French and through the eyes of children) and features a strong script and direction from a female director, not to mention a brilliant cast. The film is at SIFF Cinema, now through next Thursday, March 31 and is well worth checking out.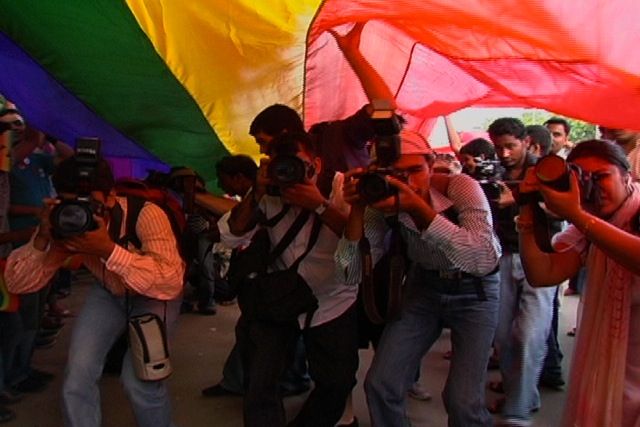 Finally, we have a chance to support a lesbian filmmaker screening her new work in progress. TrikoneNW, a social organization for Seattle's South Asian community, is sponsoring a screening of Sonali Gulati's documentary I Am (formerly Out & About) at the Seattle Asian Art Museum located in Volunteer Park to be held Saturday, March 26 from 1pm to 4pm. What's it all about?
What do parents do when they find out that their child is gay? Having lost the opportunity to tell her mother that she is a lesbian, a young Indian filmmaker in search of answers, travels across India to meet with parents of other gay and lesbian South Asians. I Am is a personal and revealing feature film that journeys to a landscape where being gay is a criminal and punishable offence. Can this documentary conversation offer any resolution for either the filmmaker or the parents she meets? With courage, determination, and humor, families share untold stories that have thus far remained in the realm of secrecy and silence.
Film website: http://www.sonalifilm.com/outandabout.html
Please note that this is a short film and plays with another offering, Gulabi Gang (aka, Pink Saris) a full length feature, in Hindi, from filmmaker Kim Longinotto that examines a feminist grass roots movement in India and it's charismatic leader. This is a rare opportunity to see some empowering films made by women, for women. Check it out.
(Visited 1 times, 1 visits today)