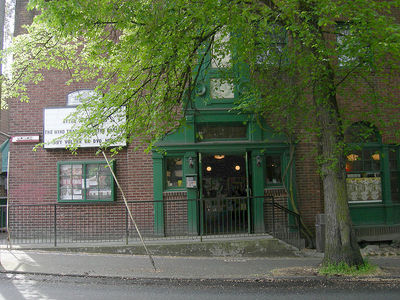 Some drama Wednesday night at the 7pm Seattle International Film Festival screening of If A Tree Falls: A Story of the Earth Liberation Front a documentary about the eco-terrorist Earth Liberation Front movement notorious for dramatic and violent demonstrations in support of their cause. Ten minutes into the screening, the film was stopped and the audience was abruptly evacuated from the theater with the explanation there were "technical difficulties". Later, a SIFF staffer allegedly reported there was a 911 call made which resulted in a fire drill, but no fire trucks, police or emergency personnel ever arrived on the scene. Audience members were also told, the film would not be rescheduled but received vouchers to use for other films at the Festival.
We've heard through the grapevine, that a man wearing camaflouge gear was seen acting suspiciously at the theater which prompted the evacuation. According to an eyewitness:
There was a creepy guy who was pacing outside with a backpack, all dressed in camouflage. Then he goes into the theatre, and after a few minutes he leaves the theatre abruptly. Assumptions had to be made — house is evacuated, they get everyone onto the sidewalk.

Turns out, the suspicious camo guy was the date of some chick attending the film, and he was all pissed off because she was late, then storms out of their date…
This hasn't been confirmed by SIFF, Landmark or SPD but judging by the fact the police were apparently not present, this sounds like a likely explanation. And, maybe someone jumped the gun and was a bit overly cautious, but really…wouldn't you rather miss a movie than risk getting blown up by an eco-terrorist organization?
If A Tree Falls: A Story of the Earth Liberation Front is scheduled to play again on Sunday, May 29 at the Everett Performing Arts Center. It'll be interesting to see what kind of attendance that screening gets…but, Everett is a military town so I don't think a high strung guy in camos would probably cause much comment or worry.
Tags: Eco-Terrorism, If A Tree Falls: A Story of the Earth Liberation Front