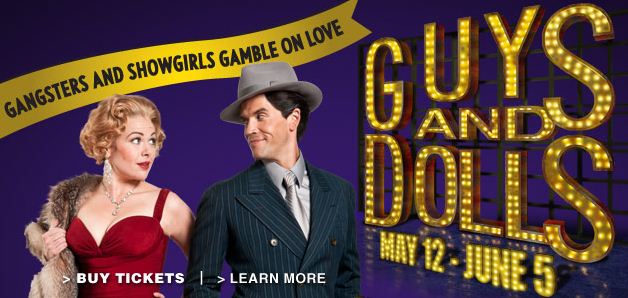 There are two times throughout the year where theater is blooming all over the city: Fall and Spring. Much like fashion. The weather might not feel like spring, but the stories that we share throughout our community is screaming spring. To start things off, SGS suggests the glitz, glam of gamblers, gangsters and gals in the city that never sleeps: "Guys and Dolls" at The 5th Avenue Theatre. This old classic musical takes you to a different time in our country where high rollers and gals with big dreams comes to life May 12th through June 5th with an all-star cast including Brandon O'Neill as Sky Masterson and Billie Wildrick as Miss Adelaide. Purchase your tickets at a discounted rate on the website.
"Sense and Sensibility" at Book-it Repertory Theater is another recommendation that you should place on your calendar for the month of May. "Sense and Sensibility" is by Jane Austen, adapted by Jen Taylor and directed by Makaela Pollock. This novel on stage opens on May 25th and runs through June 27th. For ticketing information, please visit their website to purchase your tickets. Come see the story that began Austen's career, brought to life on a Seattle stage near you!
In Austen's first published novel (1811), the Dashwood sisters find that love is an unpredictable struggle against the most important social values: family, honor, and wealth.  As teens, Elinor and Marianne's family fortunes take a turn when they lose their father, and their welcome in his home, now owned by their half-brother and his overbearing wife. With a move and a few chance meetings, Elinor falls for the intelligent and reserved Edward Ferrars, while Marianne dotes upon the handsome John Willoughby. Through Elinor's sense and Marianne's sensibility, this sprightly tale wends along the twisting path of love among the English gentry.
The Satori Group is back in motion with a new play titled, "Fabulous Prizes" written by a local playwright that will surely give you laughter and something to think about or discuss over cocktails. "Fabulous Prizes" is currently running through May 30th at The Satori Loft (619 Western Ave. 4th Flr. N). Directed by Caitlin Sullivan.
Tickets are $18 for general admission and $12 for students and seniors. You can also purchase tickets for this new show on their brownpapertickets.com page.
FABULOUS PRIZES opens the door to a basement apartment where two men have stuffed 28 years of their lives. Obsessed with the arrival of a long-overdue letter, world-class restauranteur Julius and his son, Arthur, create a world of distorted grandeur. The Satori Group and local playwright Neil Ferron dive into a world where we are all held hostage by our fantasies.
They're all worth a checking out!
(Visited 1 times, 1 visits today)