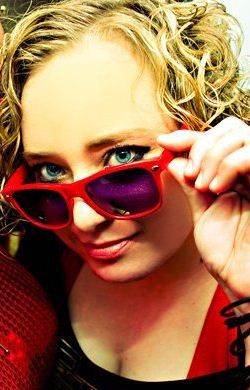 Our contributor/friend L.A. Kendall is a busy, busy lady. She djs, and she produces and promotes shows, and she is booking shows for PrideFest and she writes for Seattle Gay Scene and she writes/publishes Hard Times Press and she writes on her own blog, The Eyes of Laura Kendall…that's a lot of hats to wear!
And, it was on The Eyes of Laura Kendall that she revealed some info on some of the big events she's planning and going to be a part of next month, many of them related to Pride events. Let's break them down:
Lezbro, the monthly dance party at the Wildrose is moving to the third Friday of the month for June and will be held on the 17th. Joining L.A. Kendall and Tony Burns will be the Sisters of Perpetual Indulgence, Abbey of St. Joan with special guests Jackie Hell and Cherry Sur Bete hosting a Wet T-shirt contest and the entire event will help raise money for Camp Ten Trees, the awesome non-profit that provides great services for Queer kids and the kids of Queer parents.
Next it sounds like Kendall and the Hard Times crew will be a part of the Trouble Dicso Pre-Pride Bouncy Ball at Fred Wildlife Refuge, a fundraiser for the "It Gets Better Project" and starring DJ Sammy Jo, Vockah Redu, RuPaul's Drag Race winner Raja, a bounce house and a Savage Love Sex Advice Booth manned by Dan Savage. That's happening on Saturday, June 18. Tickets should be available soon, through the Stranger's Ticketing service.
Sunday, June 26 is the Big Day itself, with the Seattle Gay Pride Parade followed by PrideFest at Seattle Center.  Spinderella will be headlining the DJ stage for PrideFest (Seattle is working her HARD that weekend!) with appearances by Trannyshack star Ethel Merman, up from San Francisco; local favorites Secret Shoppers and Glitterbang; Nicky Click and CJ & the Dolls; and the reunion of Team Gina on the Main and Mural stages. And, that's just the ones that we know of…several more acts and performers are still to be announced.
Stay Tuned for more big announcements for June events and check out "The Eyes of Laura Kendall" for the full post!
(Visited 1 times, 1 visits today)