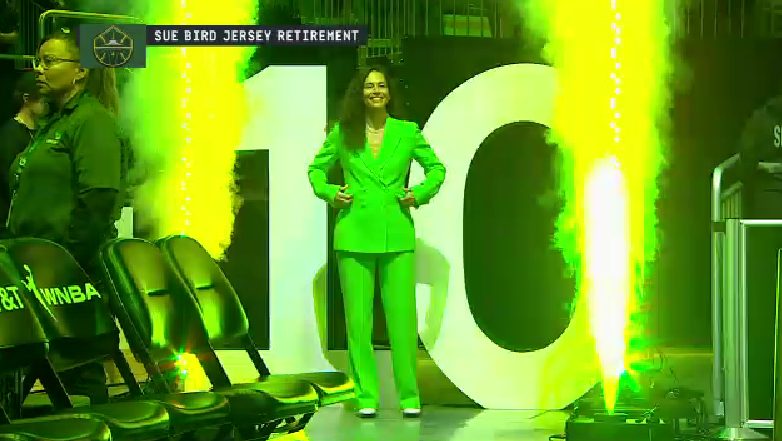 There wasn't a dry eye in the house at Lemon Pledge Arena on Sunday, June 11th as legendary basketball player SUE BIRD's Number 10 jersey was raised to the rafters of the arena to honor the athlete who played for the Seattle Storm for over 2 decades.
An emotional Bird spoke for over an hour and a half at the event co-hosted by Bird's fiancée, soccer star Megan Rapinoe along with Seattle rapper Macklemore, a huge fan of the Storm and friend of Sue.
Bird retired last fall from the Storm as the WNBA's all time leader in games and assists who led the Storm to four WNBA championships. In her spare time, she also managed to win five Olympic gold medals competing for the U.S. at multiple Olympics and was a WNBA All-Star in 13 games.
Sue Bird also helped create one of the strongest fanbases in the WNBA. Over 13,000 fans turned out Sunday for the game and the ceremony honoring Bird.
She also honored Seattle's only lesbian bar, The Wildrose, when she retired, recollecting a story about visiting the bar early in her career. (see photo below). The Wildrose had a special event on Saturday, honoring Bird with her own commemorative t-shirt.
A big ole Salud to Sue Bird and her legacy!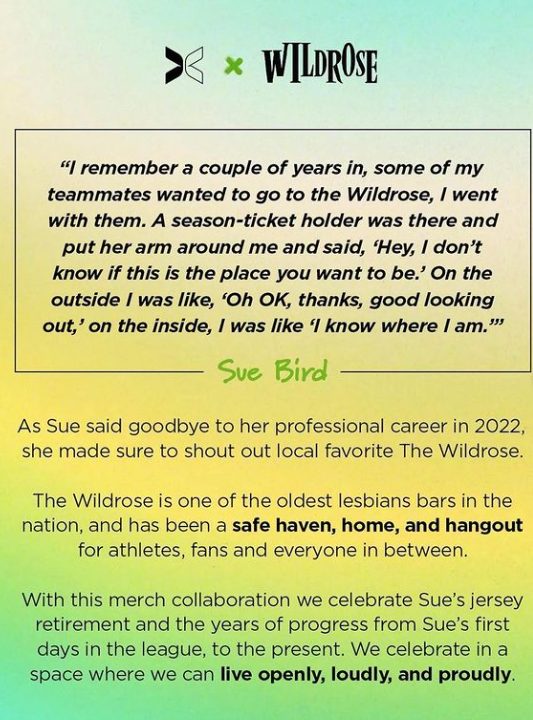 Screen capture and info from ESPN. Read the whole story at https://www.espn.com/wnba/story/_/id/37839132/storm-retire-sue-bird-no-10-jersey-emotional-ceremony
(Visited 26 times, 1 visits today)