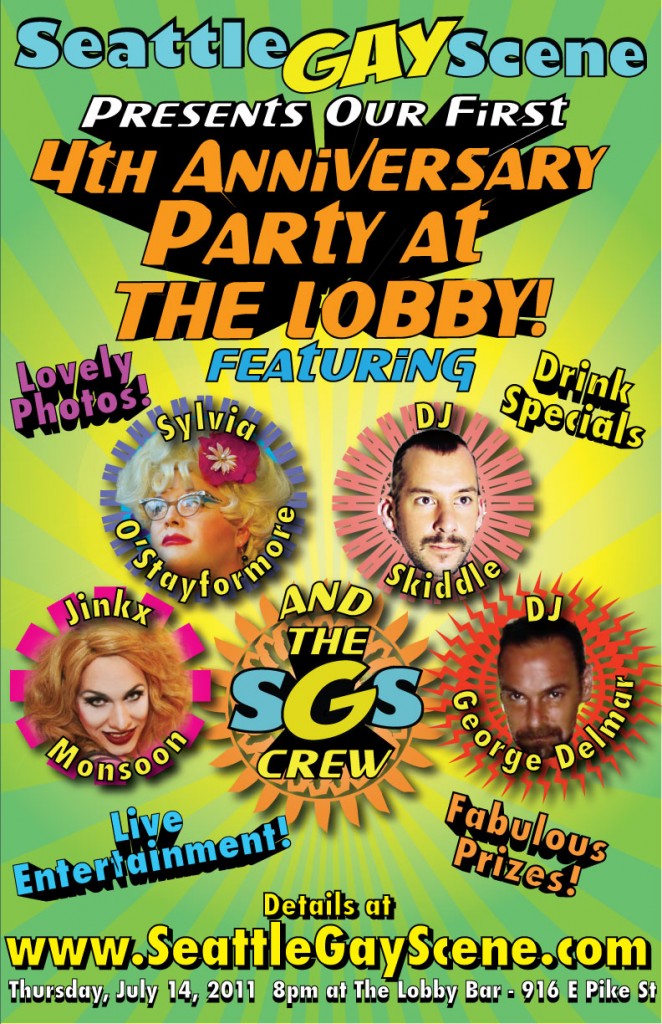 Yes, Mr. Strangeways is having Pre-Party jitters…the "Ohmigod…NO ONE is going to come to my Party" kind!!! Please calm my nerves and remember to pop by our little Anniversary Cocktail Party at Lobby Bar TONIGHT, Thursday, July 14 starting at 8pm and going to Midnight-ish. It's our way of thanking our readers and supporters for Four Amazing Years of supporting our coverage of news and entertainment for the LGBTQ community of Metro Seattle (and our Allies). The event is free to attend and there'll be drink specials, CAKE, Gift Bags, Giveaways and Entertainment from Sylvia O'Stayformore and Jinkx Monsoon and music provided by DJ George Delmar and DJ Skiddle. Oh, and a "Red Carpet Experience/Photo Booth" (but no actual Red Carpet) and roving video interviews and lots of lovely schmoozing and hugging and joyful tears.
Please come by tonight so we can thank you for your support and love.
And, also big thanks to Curtis and Paul at Lobby Bar, its staff, our entertainers, our SGS team, and our sponsors and media partners and everyone who's helped us grow in the last four years to become Seattle's source for LGBTQ entertainment news and information. We could not have done it without you!
Love,
Mr. Strangeways, Les, Bill W.
and the SGS team of writers, photographers, videographers and contributors.
(Visited 1 times, 1 visits today)