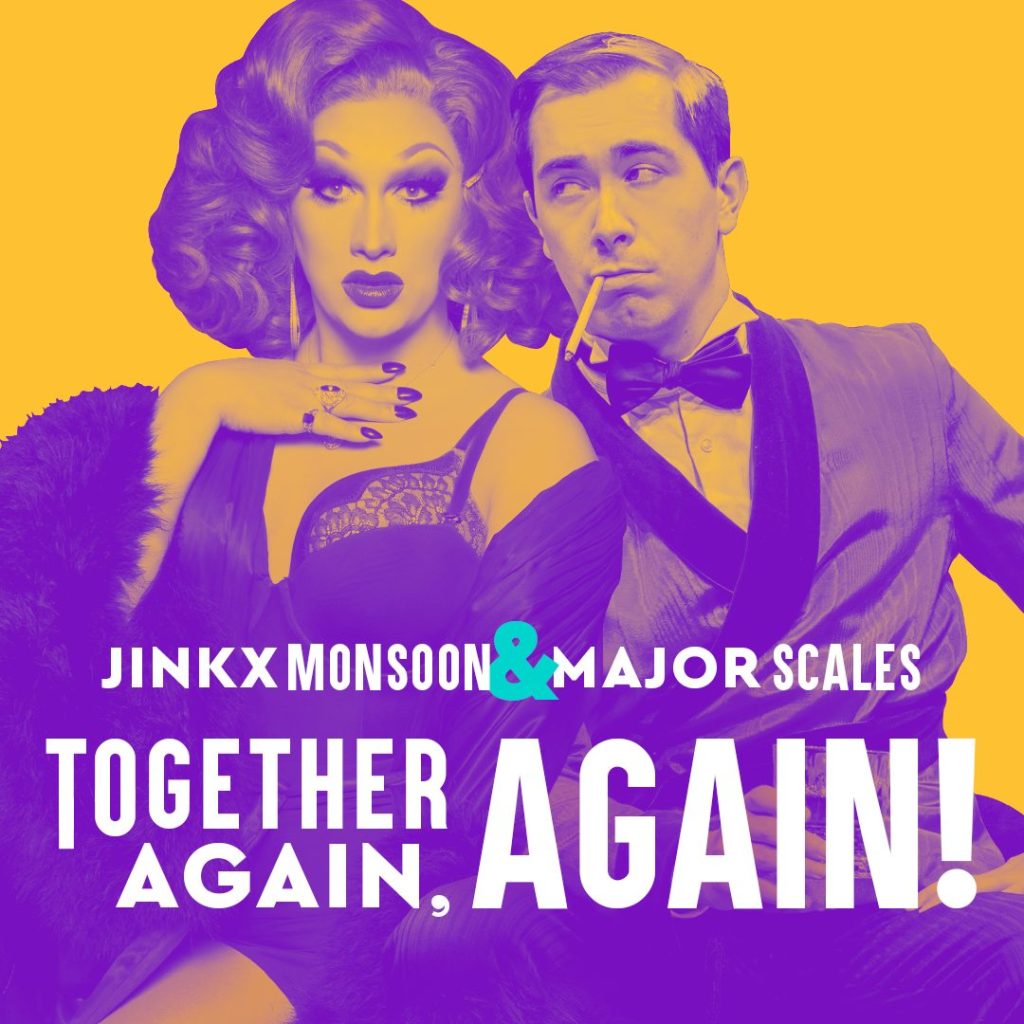 Seattle Rep announced their plans for the upcoming 2023/2024 season back in April which included the news that they were producing 8 shows for the next season but they only announced the titles of seven of those shows, leaving the identity of the final show, set for May/June of next year, a mystery…
Well, until now because they've just announced that our own favorite pair of Vaudevillians, the delightful cabaret duo of JINKX MONSOON and her musical partner MAJOR SCALES will return to Seattle Rep to fill that final slot with their new show  Jinkx Monsoon & Major Scales: Together Again, Again! opening May 31, 2024 for a month long run.
The duo last played at the Rep back in 2015 with their holiday show, Unwrapped.
It's a surprise that this show is happening…Jinkx Monsoon's career has been booming of late. The two time winner of hit television show RuPaul's Drag Race, the one time Seattle resident recently broke box office records on Broadway which she appeared in the long running musical Chicago this past winter. Right after that gig wrapped, news broke that Jinkx was signed for a big guest star role on the long running British science-fiction series Dr. Who which she then filmed just this month.
The press release reveals the plot of the new show:
The year is 2065. The sun has exploded, a dystopian nightmare has been realized, and the world has been taken over by authoritarian lizard people. "RuPaul's Drag Race" Winner Jinkx Monsoon and musical prodigy Major Scales aren't on the best of terms, but decide to put their falling-out behind them for a final reunion extravaganza. From the creators of 2014's crowd favorite The Vaudevillians, experience the comedy, music, and saucy stylings of two of the Pacific Northwest's standout entertainers.
The show is a year away. Single tickets go on sale August 14, 2023; Subscriptions on sale now. More details to be announced closer to the date.
Here are details on the rest of Seattle Rep's entire 2023/24 Season which includes another LGBTQ+ show of interest the award winning FAT HAM.

Seattle Rep's Public Works
THE TEMPEST
By William Shakespeare
Adaptation, Music & New Lyrics by Todd Almond
Conceived & Originally Directed by Lear deBessonet
Directed by Hattie Claire Andres
Choreographed by Trina Mills
Music Direction by Steven Tran
Bagley Wright Theater – August 25 – 27, 2023
The powerful Prospero, banished to a magical island by a conniving sibling, bewitches a storm to bring them back together for a final showdown—will it be revenge or reconciliation? Sprites abound, young lovers meet, and mischief is made as two very different worlds collide. With a cast of 60+ and featuring spectacular guest performances from local community groups, Seattle Rep's Public Works community brings to life this musical adaptation of Shakespeare's otherworldly adventure.

PASSENGERS
From The 7 Fingers
Directed, Written & Choreographed by Shana Carroll
Bagley Wright Theater – September 22 – October 15, 2023
Your train is about to depart the station and a cirque spectacular awaits. Through contemporary dance, music, and extraordinary acrobatics, a breathtaking series of vignettes tells the unique stories of reunions and goodbyes from the strangers that surround you onboard. From contemporary physical theater troupe The 7 Fingers comes this jaw-dropping ride you must see to believe.

Setasea LLC, Helen Milne Productions, Theatre Royal Plymouth, and Dundee Rep Theatre present:
ISLANDER
Conceived & Directed by Amy Draper
Associate Direction by Eve Nicol
Book by Stewart Melton Music & Lyrics by Finn Anderson
Leo K. Theater – October 20 – November 19, 2023
Myth and reality collide when the tide washes a mysterious stranger onto the shore of Eilidh's lonely island, changing her life forever. Join us for a musical showcase of epic storytelling, intimately staged with a contemporary Scottish folk-inspired score. Two actors embody a host of characters while weaving, building, and layering their voices using live looping technology. This internationally acclaimed hit will create an expansive, ethereal soundscape for the ears and imagination as Seattle Rep kicks off the North American Tour.

LITTLE WOMEN
By Kate Hamill Adapted from the Novel by Louisa May Alcott
Directed by Marti Lyons
Bagley Wright Theater – November 10 – December 17, 2023
Jo March isn't concerned with what's "ladylike." Actually, she's not sure she wants to be a lady at all. An aspiring writer, Jo must negotiate with society's expectations to realize her dreams. Against the backdrop of the Civil War, the beloved March sisters grow together and apart, discovering love, joy, and loss as they learn the importance of family and being true to oneself. Kate Hamill's (Seattle Rep: Pride and Prejudice, 2017) fresh and lively adaptation of Louisa May Alcott's classic novel will bring the entire family together this holiday season.

QUIXOTE NUEVO
By Octavio Solis
Directed by Lisa Portes
Bagley Wright Theater – January 19 – February 11, 2024
Aging Cervantes professor Jose Quijano isn't going down without a fight. When his family tries to move him to an assisted living facility, Jose escapes on his valiant tricycle steed in search of his long-lost love. Reality and fantasy blur in the Texas desert, as Jose dubs himself Don Quixote and embarks on a fantastic, death-defying journey to discover the truth of his past. Underscored by vibrant Tejano music, Quixote Nuevo is a humorous and heartfelt quest towards becoming the hero of your own story.

SANCTUARY CITY
By Martyna Majok
Directed by Desdemona Chiang
Leo K. Theater – March 1 – 31, 2024
Winter, 2001, Newark, NJ. Two DREAMers—pre-DACA—meet up on the fire escape, which happens most nights. Both undocumented teens, they grapple with life's challenges, from family to their futures. When one becomes naturalized, she promises to marry the other so he can receive his papers and truly start his life. As time passes and their relationship shifts, both must confront what they are willing to sacrifice to live freely and belong. This searing and captivating new play by Pulitzer Prize-winning Martyna Majok asks what we're willing to risk for those we love.

FAT HAM
By James Ijames
Directed by Timothy McCuen Piggee
Bagley Wright Theater – April 12 – May 12, 2024
Juicy, a young queer Black man, has a lot on his plate. His mother just married his uncle after the untimely death of his father, whose ghost appears at a family barbecue demanding that Juicy avenge his murder. Sound familiar? Fresh from its Broadway debut, this Pulitzer Prize-winning play inspired by Shakespeare's Hamlet is a sparkling and uproarious new comedy about seeking love and liberation.
(Visited 43 times, 1 visits today)