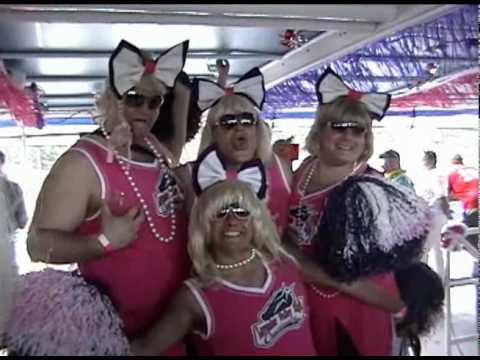 The recently turned 40 Scott "Bucket" posted on Facebook today a video of a Tacky Tourist Club Cruise from a few years back. The beloved yearly cruise, traditionally scheduled on SeaFair weekend, or close to it, was a beloved Seattle institution for many, many years but faded away a couple years ago partly due to the declining health and subsequent passing of TTCA founder, organizer, the much missed Robin Evans.
(Added Note: And, the fact it takes a HUGE amount of work to put on this event year after year; a year's worth of organizing for a three hour cruise! So, a big shout out to everyone who worked on the Tacky Tourist Club events and specifically the cruise every year for many, many years!)
I notice on the still existing Facebook page that there is definitely interest in reviving the Club…maybe that's something we need to talk about…what do you think, Seattle?
And, check out the video…LOTS of familiar faces on it, albeit much younger faces…
Tags: Robin Evans, Tacky Tourist Club