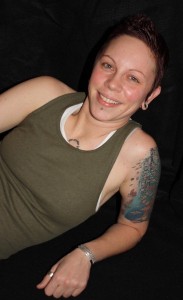 I recently had the pleasure of interviewing singer and songwriter Julie Schurr. Hailing from the state of Missouri, she plays what she affectionately calls "indierockbitchfolk", a combination of rock, hard folk and comedy. Schurr released her second CD this year called Boi in the Girls Room and has set out on a cross-country tour of shows. She has been invited to play large venues and Pride festivals and has headlined with acts like God-des and She. Having played her way up the coast from Southern California, Schurr will soon be playing in the Seattle area at VIBE in Kent, next Friday, August 6.
Although she has been making music and touring for over four years, I discovered her music only a few months ago and became instantly mesmerized by Schurr's voice and relatable lyrics. We've all been in love, have lost that special someone or are looking for her ("Been So Long", "Drowning"). We all like to laugh and she can definitely bring a few chuckles with lyrics like "you cheater, you low-down dirty bitch" and "in the end you didn't even make me come" ("Second Best"). Also "Ode To My" will make you laugh and blush at the same time as you hear her sing about her strap-on. And, ladies, she's definitely not hard on the eyes. So there you have it—Ms. Schurr is the whole package: a talented, funny, good-looking lesbian.
—————————————————————————————————————
Kate Morgan West: Tell me a little about where you grew up and your background.
Julie Schurr: I grew up between Michigan and Missouri. We moved a lot. My family was very, very conservative Christian, so you can imagine how hard it was at first for me to come to terms with being a lesbian. It's something I struggled with for years, and it caused a large rift in my family. We speak from time to time now, and though I know my parents are not in agreement with what they believe to be "a choice," there is much more peace between us now. We have agreed to disagree, really.
KMW: How did you get started singing and writing songs?
JS: I've always been involved with music in one way or another…I started playing flute at 4 years old, and was always in one choir or another. During my first year of college, my friend Linda read my poetry and suggested putting it to music, and loaned me her guitar. I've been at it ever since. It's therapy for me, and a way to connect with people who might otherwise be strangers. I love that I decided to pursue this career!
KMW: Have you found being a lesbian artist to be a help or a hindrance in forging your career?
JS: You know, it both helps and hinders. I love playing for the LGBT community, and because of who I am, many songs are definitely from a lesbian's perspective. However, I believe that music has no gender or orientation, and that anyone can relate to the majority of my songs, regardless of who they love. It's sometimes hard to attract new audiences because I am often pigeonholed into the "lesbian with a guitar" stereotype – and I am anything but that. I'm trying to change the way people view women with guitars. I put on a show that is much more than just music. I think anyone who is up for comedy, music, and a good time could appreciate my show. It's just getting those people to look past the "lesbian acoustic musician" stereotype. Fortunately, that seems to be something that is changing…I think more and more people are realizing that it's not always a "kumbaya" situation when it comes to rocking girls!
KMW: Who are your musical inspirations?
JS: My musical inspirations are pretty varied. But to be honest, my biggest inspirations are the underdogs. The girls out there trying like hell to get their music heard without corporate help – girls living out of their cars, girls eating peanut butter & jelly so they can afford gas to the next gig, etc. It's a hard road, but it is definitely worth it . Anyone out there working their butt off to make it despite the huge obstacles is my inspiration, and always will be.
KMW: What are three things people would never guess about you?
JS: Hmmm. Three things no one would guess about me? Oh lord. How to answer this and maintain my dignity. . . . Well, first…I'm a huge nerd. I love reading, and that's what I usually do on the road between shows. Second, I'm not a drinker. It's shocking! I know. I'll have a cider once in a while, but people are usually surprised after seeing a show to find that I have not been drinking, nor am I planning on it. What can I say? I guess I'm wild enough without alcohol. (Not that I have any issue with people drinking!) Annnd, hmmm. I guess, despite my "crazy girl" songs, I'm a hopeless romantic. I don't think I give that impression at shows at all. But it's true. I'm definitely a mushy girl looking for a fairy tale ending.
KMW: Where can people go to check out your music and/or buy your album(s)?
JS: Well, of course, Facebook. But Facebook is not the best for musicians, so I'd point people to my website, where they can hear my music, buy a CD (or shirt, or underwear) and keep track of when I'm heading their way on the tour page. They can visit me there at www.julieschurr.com. Also, people can find me on Reverbnation: www.reverbnation.com/julieschurr or on itunes…but I definitely appreciate purchases through my website. itunes takes quite a chunk of profits, and that's hard on an indie!
KMW: You've been doing some touring this summer. Where have you been and where can people catch you next?
JS: So far this summer, I've been from Iowa to Montana, and from San Diego up to Portland. Obviously, my next stop is the Seattle area, where I'll be performing at Vibe Bar, in Kent, on Sat, Aug 6 at 9:00pm. I don't get out here often, but I always love it when I do…so I hope everyone can join me! After that I'm heading to Oakland to perform at the Butch Voices Conference, and then home for a few Midwestern shows.
———————————————————————————————————-
Kate West is a queer freelance writer living in the Seattle area who loves music, poetry, art and women. You can find out more about her and her projects at www.KateMorganWest.com. 
Tags: Boi in the Girls Room, Julie Schurr, Kate Morgan West, Vibe