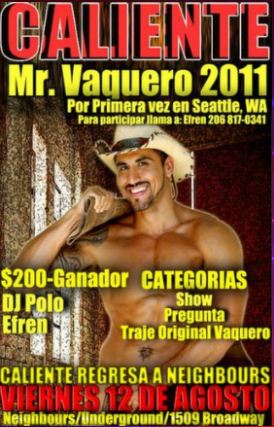 Another cray-cray weekend of stuff to do as we head into the dog days of summer. This weekend is NUTS with TONS of events going on and something to appeal to just about everyone. Let's take a look at stuff going on for Friday, August 12.
RuPaul Drag Race Season Two runner up RAVEN is joining the ladies of LeFaux at Julia's on Broadway for shows TONIGHT and Saturday…a few tickets are still available and you know you want to check out what this very opinionated queen has to say…bitch ain't shy about saying what's on her mind, and she always looks fierce while saying it.
Disco bunnies have tons of options, too. The Hussler gang is taking over Pony for their monthly par-TAY…Lu Ying and Jt Hooker have cooked up another awesome night of music and visuals with special guests DJ Hooker, Moist Towellette, Terra Hymen and Ade. (Also check out Ms Ade's new show at Re-bar TOMORROW night). The fun starts at 10pm and lasts for DAYS…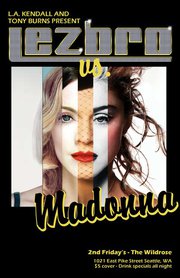 Another music loving option, is Lezbro: The Madonna Edition as L.A. Kendall and Tony Burns celebrate the life and legacy (and music) of everyone's favorite Material Girl for their monthly dance party at The Wildrose. Here's their skinny on the event, (and, the cover is only $5!!!)
We've loved her for several decades now, and residents L.A. Kendall and Tony Burns are simply OCD over the bitch! August being her birth month, it seemed like the perfect time to celebrate the material girl, Madonna. There will be amazing Madonna themed performances (that you DO NOT want to miss by LA Kendall, ArtStar and Lili Delight), the DJ's will be playing a heavy dose of her greatest hits (and then some), the projections will have a gluttonous amount of Madonna videos on display, and partygoers will be adorned in an assortment of Madonna themed garb. Hell, we might even convince Shelley at The 'Rose to come up with a Madonna themed drink special!
For Latin Lovers, head to Neighbours Underground for the Mr. Vaquero 2011 pageant. The invite is in Spanish, but we learned enough in High School to determine it's going to be muy caliente with zexy Latin men in Speedos and some hot, hot music. We expect to see lots of Lycra covered pingas in attendance…Ole!
Movie Lovers of course have the option of Three Dollar Bill's FREE Outdoor Movie Screening of the truly bizarre movie musical "The Apple" happening in Cal Anderson Park at dusk (8:30ish). You have to see it, to believe it…this movie is nuts and richly deserving of its cult following. Bring the kids, the blankets and some snacks and check it out.
Oh, and Seattle Art Museum's Remix is also tonight, and to celebrate our pseudo summer, this edition is happening at the Olympic Sculpture Park on the waterfront. Our good buddy DJ Skiddle and Sammy LaForge will be part of the entertainment and the first 50 people in line wearing gingham, get in FREE! There's tons of other entertainment as well, including a sing-a-long screening of "Grease". Check out some art, wear some picnic tablecloths and have a party by the Sound! Sweet…
(Visited 1 times, 1 visits today)