Kanye's favorite singer and the busiest beard in Tinseltown, Taylor Swift is coming to the Tacoma Dome Wednesday, September 7th and tickets are still available. The lovely lass is also pushing her new fragrance, "Wonderstruck" and here she is, in an ad for the scent wearing a delightful frock from Christian Siriano.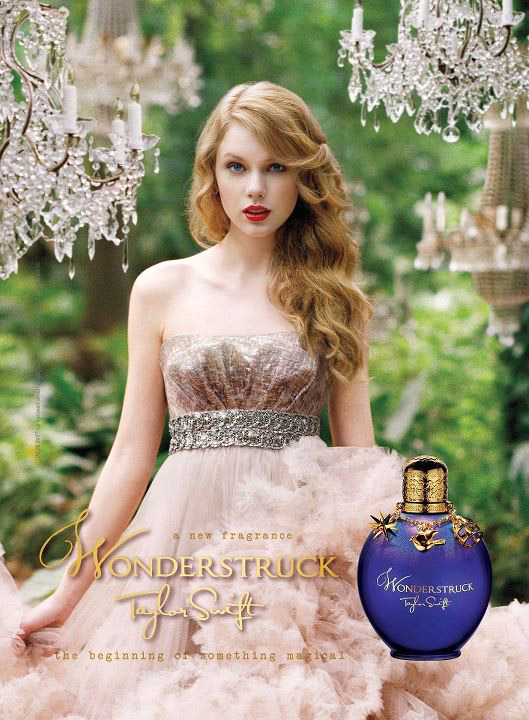 I didn't put her concert on the calendar for the simple reason that I HATE Taylor Swift. I have no rational reason for disliking her so intently…I know nothing about her music and I've never seen more than a snippet of her in performance. I just can't fucking stand to look at her…it's that irrational thing we all have over certain celebrities. There's something about Ms Swift that just makes me want to smack the smug look off her face. She's just ooky…at least, to me.
I feel the same way about Julia Roberts. Doesn't she seem like she's just nasty? And, she's made ONE good movie in 20+ years…ONE. (Erin Brockovich) Poor old Sarah Jessica Parker gets all the horse face jokes, but Julia's been hanging out in the stable eating oats with Mr. Ed for the last quarter century. She's awful.
Other residents of the "Celebrities I Irrationally Hate" Club: Denzel Washington, Tao Lin, Sherman Alexie, Yasmina Reza, John Mayer, Josh Appelbaum & André Nemec (the TV producers with three failed TV shows to their credit, yet they continue to get high profile jobs…they're the asshats that fucked up the American version of "Life on Mars".)
Oh, and I love to hate Gwynnie Paltrow…she's awful but sometimes she's so awful she's wonderful and that's a whole different kind of list.
(Visited 1 times, 1 visits today)