I graduated from high school in 1985. I was all too happy to see that uncomfortable time finally come to an end. I didn't have many friends in high school.  I never really felt a part of the small town of Logan Utah.  So when high school reunions come around and the invitation shows up in the mail, I have not really been too motivated to go or answer.
Several years ago my 20th high school reunion came up. The reunion committee sent out notices to everyone and provided an opportunity to give a "life statement". Thinking that it might motivate others to come out, or even just show other fellow students that there were gay people out there, I was drawn to come out to the student body.  "Why not?" I thought.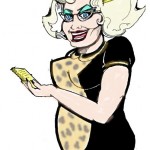 So I started my coming out story. I started out with how in high school I was active in the church and how things changed from there. I talked about my mission service, coming home and moving to Salt Lake City and then to Seattle. Talked about the theater and the creative outlet I have now and the personal changes I had gone through. I explained how I have accepted myself now and am very happy in my out life here in Seattle. I was a little nervous doing it but it felt good.
Well, several months later, after the reunion was over, the reunion committee sent a little compilation book of the statements from other students of Logan High Class of 1985. When I got it I thought "Cool! I wonder if anyone else came out or had interesting stories to share." I went through the whole book. Most of my fellow students that had taken the time to write had written about their families and what they had done. Some had moved away from Utah and started business raised families and was happy. Most had familes now and new lives from there.  The standard response had them active in the church and all the social structure that the church provides. I came to mine and there it was. Not edited at all. I felt a bit tawdry with all of those other stores of happy balanced family life next to mine. Once again I felt like an outcast in my peers but now it was different. I am in a different place now. I am happy with who I am. Now I don't worry if I will be accepted. I am proud of what I have become. Since 1985, I've changed a lot. One of my achievements that I am proud of is that I came out as a gay man. So happy to be here and hope to be around to avoid another 20 years of high school reunions.
New Bacon Recipe to bring to your Coming Out Party
Hot Bacon Crab Dip
Mix 8 ounces each Cream Cheese and Crabmeat
1 cup crumbled cooked Bacon
½ cup mayonnaise, 3 chopped scallions
and the juice of 1 lemon. Spread in a backing dish;
Top with breadcrumbs.
Bake at 350 degrees until bubbly,
30 minutes