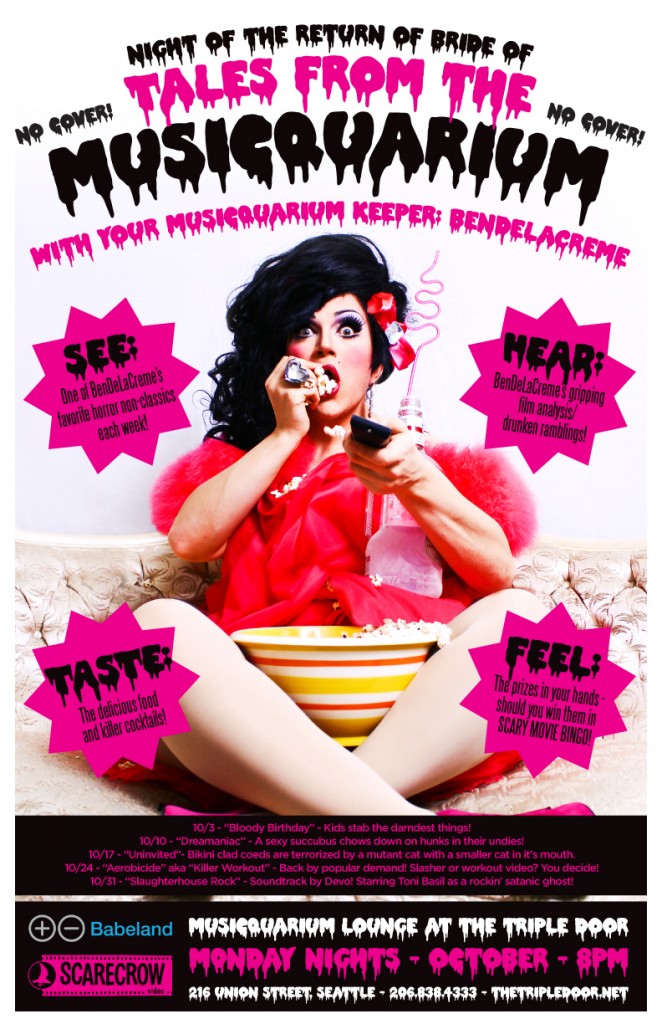 BenDeLaCreme's "Tales From the Musicquarium" is BAAAACK at The Triple Door for one month only! It was a big hit earlier this year, and BenDeLa returns for a month of cheesy, horror film screenings/live performances in the Musicquarium Lounge…oh, and it's FREE, (no cover charge…yeah, you gotta pay for your food and booze…) Here's the line-up for this month's series of shows:
What better way to spend Monday evenings in October than with a whole new series of horror non-classics, scary movie bingo, prizes, killer cocktails, and BenDeLaCreme's own gripping film analysis/drunken ramblings.

Brought to you by the good folks at Scarecrow Video and Babeland.

Every week a new film- hand selected by BenDeLaCreme for maximum terribleness!

10/3 "Bloody Birthday"- Kids stab the darndest things!
10/10 "Dreamaniac" – A sexy succubus chows down on hunks in their undies!
10/17 "Uninvited"- Bikini clad coeds are terrorized by a mutant cat with a smaller cat in it's mouth.
10/24 "Aerobicide" aka "Killer Workout" – Back by popular demand! Slasher or workout video? You decide!
10/31 A special HALLOWEEN PRESENTATION of the out of print VHS "Slaughterhouse Rock" – Soundtrack by Devo! Starring Toni Basil as a rockin' satanic ghost!
Horrible horror films and drag queen hijinks…what could be more fun?
Tags: Ben Delacreme, Tales from the Musicquarium, The Triple Door