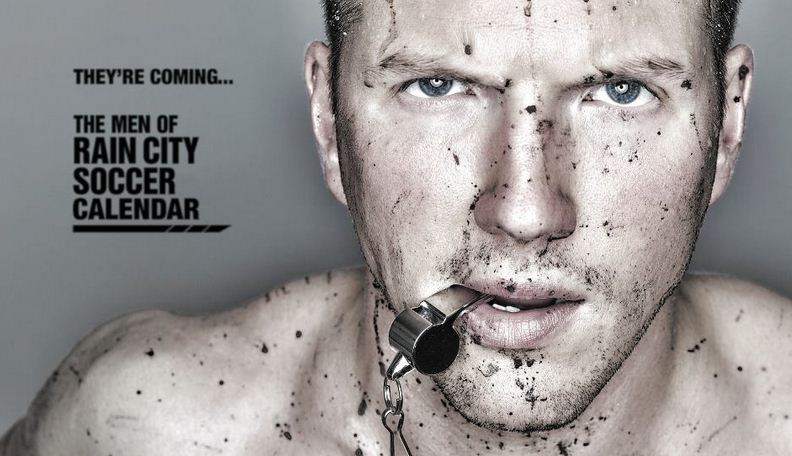 It's time to stuff your stockings…or, the stockings of your loved ones and what makes a more perfect "stuffer" than the new Rain City Soccer Club Calendar? It's hot off the press and ready to be placed into your equally hot little hands and you have two big opportunities this weekend to grab it.
First up, on Black Friday, November 25, the big debut of the calendar at C.C. Attle's, 1701 E Olive Way starting at 8pm and lasting until 10pm. Buy a calendar, mingle with the models, and get'em to autograph your own personal copy.
If you're tied up Friday, you have a second chance on Saturday, November 26 as the Rain City Men head to R Place, 619 East Pine Street for another calendar event and also happening from 8pm to 10pm.
Oddly, I can't find links where you can purchase the calendar if you don't go to either one of these events…the Rain City Soccer website wasn't much help. If anyone knows, let US know so we can spread the word. (Hint to Rain City: You need to make it easier to buy your calendar!)
UPDATE!!!!!!
The adorable Joey Chapman just emailed over some more info about the Rain City Soccer Calendar and where you can pick up a copy!
Thank you for posting info about our soccer calendar launch. Below is additional information you have requested to help make our soccer sales that much better. If you could please update your article with this information that would be wonderful! 

The calendar will go on sale Friday, November 25th. The launch party is at CC's. 

The website to purchase the calendars will also go live on Friday. Here is the link for it. It also contains all information regarding our on sale events:

http://rcsccalendar.memberlodge.org/

Friday, November 25th at CC's 8pm – 10pm
Saturday, November 26th at RPlace 8pm – 10pm
Friday, December 2 at OutWest 7pm – 10pm
Saturday, December 3 at Madison Pub 8pm – 10pm
Saturday, December 10 at The Lobby Bar 8pm – 10pm
Sunday, December 11 at The Pony 7pm – 9pm 
Saturday, December 17 at The Eagle 8pm – 10pm 

Calendars are $20 and all funds go to Rain City Soccer Club. 

Here is the website for our amazing photographer as well: 

Sean Gumm
http://www.seangumm.com/#/

Please let me know if you require any further information to help make our calendar sales that much better.

Thank you so much. I have been a HUGE fan of the Seattle Gay Scene since the beginning and truly appreciate all your local support. 
Joey Chapman
RCSC 2012 Calendar Chair
Thanks Joey! And, kids, don't forget to buy ME a copy! My stocking needs stuffed!
(Visited 2 times, 1 visits today)