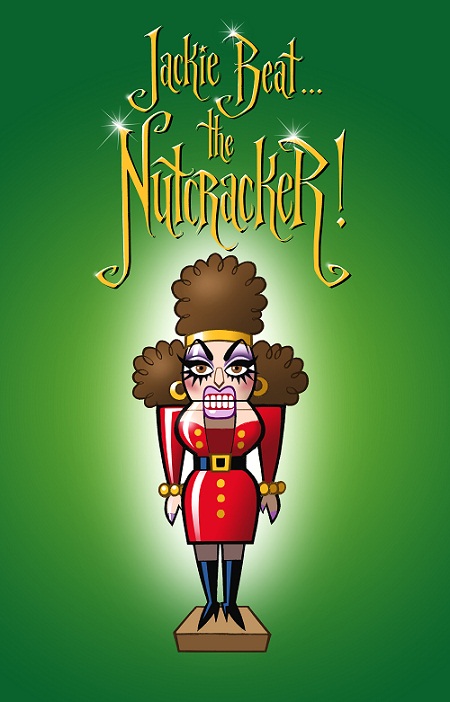 It's the holidays, in case you were living in a cave, which means lotsa holiday themed shows from every venue in town. Re-bar has booked about a thousand of them for December, besides their mega cash cow "The Dina Martina Christmas Show". Most of them are local artistes, but they've imported at least one out of town Superstar to perk up your holiday season, and this one happens on a Wednesday. "Jackie Beat: The Nutcracker" hits the gummy Re-bar stage for one night only, this Wednesday, December 7, 2011 for a night of frivolity, mirth and holiday fueled filth from the L.A. based drag comedy legend. The lovely Ms Beat is visiting Seattle as part of her whirlwind holiday tour with her annual holiday show. Here's what the hyperbolic press release has to say:
JACKIE BEAT is putting the final touches on her annual holiday show. This December, the self-professed bastard child of "Weird" Al Yankovic and Bette Midler will premiere JACKIE BEAT: THE NUTCRACKER in LA, NYC, SF, Seattle, Chicago, San Jose and Milwaukee!

JACKIE BEAT: THE NUTCRACKER continues Jackie Beat's mission to poison every sacred belief and holiday tradition. Whether you celebrate Christmas, Chanukah, Kwanzaa or Ramadan, an evening with Jackie Beat is always the perfect antidote to holiday cheer. This new holiday show is a virtual stocking stuffed with hilarious new seasonal material including "It's Beginning To Look A Lot Like Syphilis" about the gift that keeps on giving: STD's! and some classic Christmas Jackie including her cocaine-fueled rewrite of "Let It Snow," the pregnancy confessional "Santa's Baby," a menorah-loving "Jew Christmas," a booze-infused spin on "Happy Holidays" called "Alcoholidaze," and the self-explanatory "I Saw Daddy Doin' Santa Claus."

It all started so innocently in 1998 with Jesus Christ, It's Your Birthday!, a delightful non-denominational holiday tribute featuring such seasonal fare as "Sleigh Ride in Leather With You" and "Black Christmas." When the show was prominently featured in The Catholic League for Religious and Civil Right's 1998 Report on Anti-Catholicism, an annual holiday tradition was born. Beat's holiday shows, including How The Bitch Stole Christmas, Give 'Til It Hurts, Alcoholidays, Blew Christmas, and Drag Nog have been performed at venues nationally.
Tickets are still available via Brown Paper Tickets (only $15) and the show starts at 8pm, (remember, Re-bar is cash only!)
Tags: Jackie Beat: The Nutcracker, jb