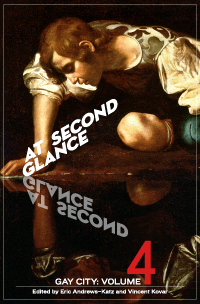 Many of us enjoy getting a book or two (or twelve) as holiday gifts. The Gay City Anthology series has solved some of your gift giving problems by managing to get their latest book anthology to the printers just in time for the holiday season. It's the fourth volume in the literary series, "Gay City Anthologies Volume 4: At Second Glance" produced by Gay City Health Project and edited by Eric Andrews-Katz, and this year's book takes a look back and presents works featuring unique perspectives and "alternate angles". Who doesn't enjoy hearing the "other side of the story"?
Our anthology series continues with Volume 4: At Second Glance. There are always at least two viewpoints to every story and yet, we usually only hear one. A different perspective can provide an entirely different story than the commonly known tale; the other side of the looking glass, so to speak. This year, our anthology series continues with volume 4: At Second Glance, an anthology dedicated to exploring those alternate angles. Inside you'll find exciting new tales by established authors such as Felice Picano, as well as stories from emerging writers like Evan J. Peterson, Casondra Brewster and Louis Flint Ceci. Readers will even find a piece from our volume editor, Eric Andrews-Katz. From comic art to playscript, from mythology to modern fantasy; all the pieces take the reader forward by glancing back.
Last year's Volume 3: Re-Pulped was a big hit; we're guessing it was the combination of great stories, and a sexy cover, and Volume 4 should provide an equal amount of pleasure and literary delight.
You can order your copy of "At Second Glance" HERE…it's a bargain at $15.95!
(Visited 1 times, 1 visits today)