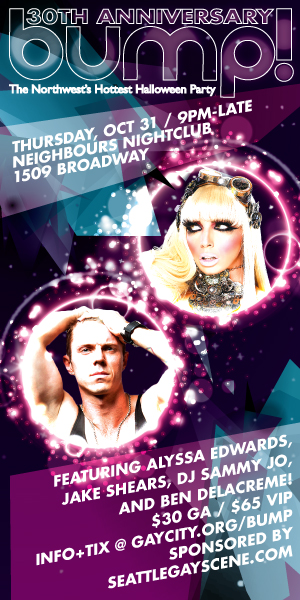 In addition to Three Dollar Bill Cinema kicking off the Seattle Lesbian & Gay Film Festival this evening (Friday, Sept 27) from 5pm to 7pm, you can then head down to Gay City Health Project, 517 East Pike Street from 7pm to 8:30pm to help them kick off their Gay City Arts season. And, tonight's event is also the official reception/launch party for the debut of "Gay City Anthologies Volume 5: Ghosts in Gaslight, Monsters in Steam". You can meet the contributors to this year's literary endeavor and grab a copy of the book as well.
From the Facebook invite:
The evening will culminate with the official announcement of our line up for Gay City Arts Season One: UpClosePersonal. We have some great LGBT artists and queer works selected for your enjoyment, October through June – and we can't wait to let you know what's in store. Complimentary wine and noshes will be provided.

More info: http://www.gaycity.org/anthologies
It also behooves you to mark your calendar for NEXT weekend at Gay City as their Michael C. Weidemann LGBT Library is having a special three-day book sale to clear out some duplicates and free up some space for more donations to the library. Here's the schedule for next weekend's sale:
SCHEDULE:
Friday, Oct 4 / 12pm – 8pm
Saturday, Oct 5 / 12pm – 6pm
Sunday, Oct 6 / 12pm – 6pm
Finally, it's probably a good idea to go ahead and grab your tickets for BUMP! Gay City's 30th annual Halloween party/fundraiser. This year's par-tay is being produced by Nark Magazine and it's at Neighbours and it features a killah line-up: JAKE SHEARS from Scissor Sisters will be djing along with Sammy Jo, Nark and Trouble AND RPDR's ALYSSA EDWARDS will be making her Seattle debut at the midnight show along with local hostess BEN DELACREME and a bevy of local performers. Oh, and don't forget the $1000 Costume Contest cash prize.
General admission and VIP tickets available
HERE!
Oh, and obviously, this is 21+ w/ID. It also benefits the Seattle Men's Chorus/Seattle Women's Chorus so you're helping out multiple great orgs when you buy a ticket.
(Visited 1 times, 1 visits today)