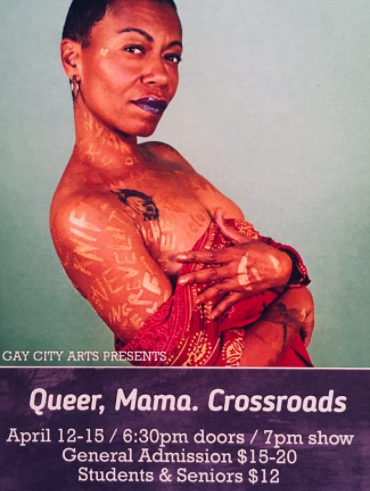 In the past year, Anastacia-Renee has been named the Civic Poet of Seattle, released three new books of poetry, graced the cover of City Arts magazine, read from her own works at many of the finest bookstores in town, and also teaches.  Just before that, she spent two years as the Writer-in-Residence at Hugo House.
She is also a playwright, and her new play, Queer, Mama. Crossroads will show at Gay City Arts (517 E Pike Street, attached to Kaladi Brothers Coffee) this weekend, tonight through Sunday, at 7 pm.  Tickets are $15-$20, with a few pay-what-you-can tickets also available in advance online. Order tickets here.  
Queer, Mama. Crossroads brings due attention to tragedies and perspectives that receive little coverage.  It looks at police violence against the black community but, where the deaths of black men are more widely known, her piece looks instead at the police killings of black women.  It looks at motherhood, but at queer motherhood, rather than heterosexual motherhood. And it looks at non-binary motherhood, rarely acknowledged as possible. All through the experience of blackness, where the default perspectives tend to be white.
Ebo Barton plays the role of the non-binary mother; Naa Akua, Kamari Bright, Simone Dawson, and Jalayna Walton also star.  Read more about the show from coverage of a recent rehearsal here at The Seattle Globalist.
Anastacia-Renee is already an accomplished solo performance artist. Her one-woman show, 9 Ounces, showed emotional slices of the lives of three neighbors, of three generations, who cared for each other like family unrelated by blood.  She wrote and directed the piece, and acted all three characters — unbelievably believably, for such a separation of age (from child to ninety-some) — and toured it in venues across town. The show was developed and premiered at The Project Room, a (now-defunct) tiny storefront sometimes-performance-space on Capitol Hill; then moved to larger houses at Hugo House; back to a tiny intimate space at the Twilight Art Gallery in West Seattle; then part of the exquisite Sovereign Festival, by black queer arts and healing organization the Earth Pearl Collective, held at 18th & Union; then with expanded space and design at Annex Theatre.

Throughout touring 9 Ounces, Anastacia-Renee was busy at work adding to and refining the piece, some to respond to events across the nation (principally the disgraceful continuance of violence against black people), and some to allow her three characters to tell different pieces of their stories. Those who saw the show a few times would learn something new with each. Anastacia-Renee has noted that her characters are quite alive — they share different pieces of themselves in different environments and, to some extent, respond to the energy the audience is giving off as well.

With 9 Ounces, Anastacia-Renee, a gifted poet, ventured outside her usual art form and into play writing and theatre performance.  Her poetic skill and word craft translated to a beautiful solo performance on stage. Now, with Queer, Mama. Crossroads, her first multi-person play, she ventures out again, writing and directing while others play the roles.  
We look forward to seeing the latest development from this talented, incisive artist.
(Visited 1 times, 1 visits today)