(Editor's Note: Seattle theater artist and educator RACHEL DELMAR has been in the Big Apple for the last year enjoying what New York City theater has to offer but returns to Seattle. Here's "7 Things She'll Miss About NYC Theatre"…and one thing she won't…)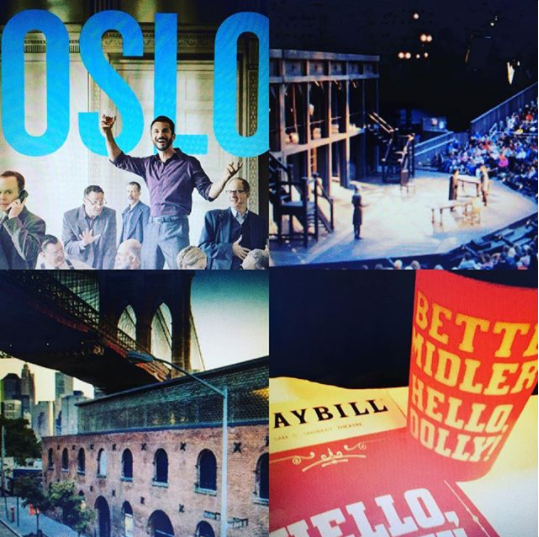 Wine and/or Martinis in commemorative Sippy Cups. [Although I've heard a rumor McCaw Hall has picked up this trend…]
The Variety. At All Times. At All Levels.
Seeing Original Casts/Productions of new plays. Which, to be fair, we get a lot of in Seattle as well, but there is something about seeing Oslo

with the original Lincoln Center Theater cast that went on to win the Tony for Best New Play that we rarely get to see outside of New York City. So maybe for me, I'll really be missing the chance to see Off Broadway/Broadway productions whenever the whim struck me.

Being in a city where visitors come specifically to this place to see theatre. [And go to museums, see art, etc.] I always wonder if there is a way to create that draw in other cities…
Being in a city where the people who live here actually incorporate the arts into their entertainment budget on the regular. Again, I wonder if there is there a way to create that culture in other cities…
Going to a play alone and realize you're sitting next to the one & only playwright extraordinaire Lauren Gunderson. #ItsASmallWorld
St. Ann's Warehouse. Period. If anyone asked me what they should go see when in town I'd recommend a thing or two, and then 'whatever is playing at St. Ann's Warehouse'. It's just one of those places where without fail you're going to have an incredible theatrical experience – whether you like the piece or not. It's the same thing I say about On The Boards here in Seattle.
I won't miss…
THE PRICE.
Surprise. NYC is an expensive city. Unless you have the privilege of time to get in [or 'on line', as they say here in the big city] line for rush tickets [which are still $25+] at the crack of dawn, you're [on a good day] spending $30-$75 on your ticket. That's not including fees.
That being said – there are always a plethora of FREE events, [including The Public's Summer Shakespeare – that also includes standing in an early morning line. And I would be remiss not to shout out the great artists at Seven Stages Shakespeare Company & their ShakesBEERience, which takes place FREE at the Way Station in Brooklyn.] but if you want to see basically anything, anywhere, you gotta throw down. Even working a job that, in most places, would have financially put me into the upper middle class, I could barely afford to see more than a couple of plays a month.
Accessibility. There has to be a balance between business and the purpose[s] of theatre. When the people whose stories are being told on stage can't afford to see the show, we have to figure out another way. I don't know the answer yet. But I promise you, it remains on my to do list. And I can't wait to tell you when I figure it out. For now, in Seattle, I highly recommend checking out Theatre Puget Sound [TPS] & becoming a member – through them you get access to a lot of discounted tickets, including free rush tickets to Seattle Rep – which doing one time basically pays for your TPS membership. A membership that helps to support TPS, an organization which does everything they can to support local artists and maintain a thriving arts scene in the Pacific Northwest. YOU CAN BE A PART OF IT!
Check it out. And I'll see you at the theatre…
Tags: New York City Theater Scene, NYC vs Seattle, Sippy Cups, St. Ann's Warehouse, Theatre Puget Sound, TPS