Here's a great new program from Seattle non-profit advocacy group, LGBTQ Allyship…it's TALK GENDER TO ME which seeks to educate and support restaurants and bars in Seattle (though specifically Capitol Hill to start) and their employees to use gender considerate language when dealing with co-workers and the public.
The program kicks off next Thursday, April 19th at three popular area food/drink providers: The Wildrose on Pike Street and two venues on 15th, Bar Vacilando and Coastal Kitchen.
MORE info on this great project from LGBTQ Allyship: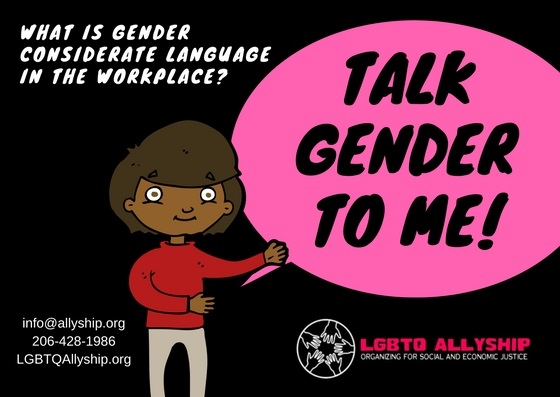 Capitol Hill restaurants commit to LGBTQ safety and welcomeness in using gender considerate language

Seattle, WA—On Thursday, April 19th, LGBTQ Allyship is kicking-off their Talk Gender to Me project designed to educate and support Seattle restaurant workers to utilize gender considerate language with co-workers, managers, restaurant owners and customers. Tito's Handmade Vodka is supporting the Talk Gender to Me Kick-Off and Coastal Kitchen (429 15th Avenue E, 3pm – 6pm), the Wildrose Bar (1021 E. Pike, 4pm – 8pm) and Bar Vacilando (405 15th Ave E, 4pm – 6pm) are all hosting a Talk Gender to Me happy hour on April 19th.

This project is geared towards Seattle restaurant workers as a professional development opportunity that encourages respecting all workers and customers around their gender identity, gender expression and gender.

All too often LGBTQ customers are unintentionally misgendered at restaurants which can be a jarring experience. Redwolf Painter, a mixed blood trans resident says, "I am often misgendered in restaurants and don't feel safe correcting folks. I leave angry and vowing to not return to that establishment. I'm so grateful to Allyship for starting this dialogue and training to restaurant staff! I love the idea of restaurants taking the Talk Gender to Me pledge and I look forward to places I can eat or drink without worry."

Many restaurants on Capitol Hill serve LGBTQ customers and are committed to preserving an LGBTQ friendly culture on the Hill. Co-owners Shelley Brothers and Martha Manning of the Wildrose Bar state, "We have seen a lot of changes over the years. The hill has become less welcoming to the LGBTQ community, but many LGBTQ individuals still come here to drink, eat, seek community and be visible. Being gender considerate in your establishment is respectful, inclusive and builds your customer base. We hope more restaurants commit to taking the Talk Gender to Me pledge."

General Manager, Christine Kennerly, at Coastal Kitchen sums up their commitment to Talk Gender to Me, "We at Coastal Kitchen are a safe place for the LGBTQ community and want everyone to feel comfortable; this includes not gendering – but we admit we're far from the goal on this as it's purely habitual for a server to greet with "hi ladies..etc". We've had situations arise when misgendering a guest has caused upset for both staff and guest. This is a bummer for all involved. We desire to give exceptional food and beverage experience – regardless of gender….so it's time we educate our team and make the stance."

The Talk Gender to Me Kick-Off also includes a free hospitality training on April 16th from 1pm to 3pm for restaurant staff and managers at Youngs Market Express Store in SODO, 2960 4th Ave. Tito's Homemade Vodka has generously provided the venue. The training will include professional development on gender considerate best practices in the industry and information on the 6 Labor Standards in Seattle. Addressing gender and workers' rights in the workplace is important for LGBTQ staff and all restaurant staff.

Talk Gender to Me is also sponsored by Restaurant Opportunities Center Seattle (Seattle ROC), Greater Seattle Business Association (GSBA), Seattle Gay News, Entre Hermanos, POCAAN, Capitol Hill Eco District Committee and Seattle Areas Support Groups (SASG).

For more information, please visit our website at http://www.lgbtallyship.org.

---

LGBTQ Allyship is a social and economic justice organization in the Puget Sound area. We serve over 3000 individuals and work on access to affordable housing, economic equity, and eliminating youth and senior homelessness in the LGBTQ community through education, advocacy, research and community organizing. For more information go to LGBTQAllyship.org.

April 19th, Talk Gender to Me Kick-Off!

Join us for Happy Hour for Tito's Vodka drinks at Coastal Kitchen, Wildrose Bar or Bar Vacilando.

Check out our 2017 LGBTQ Housing survey here!
(Visited 2 times, 1 visits today)