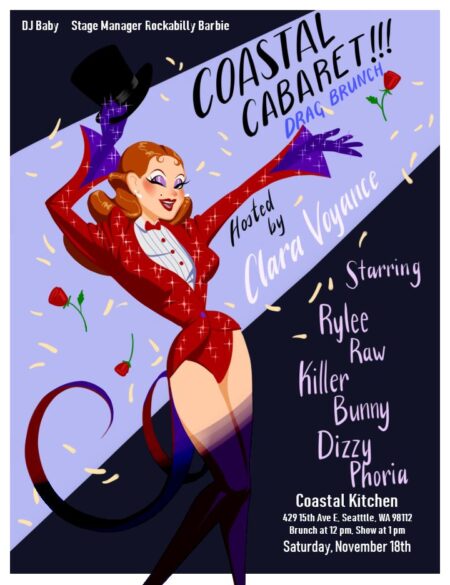 EVERYONE and their sister's cousin's boyfriend's ex-wife has now jumped on the Drag Brunch wagon…I mean, why wouldn't you? Who doesn't enjoy Eggs Benedict and Drag Queens lip syncing to Taylor Swift at 11am on a Saturday or Sunday morning?
The latest to hop on board seems to be the popular 15th Avenue on top of Capitol Hill bistro COASTAL KITCHEN at 429 15th Avenue East who just recently started slinging hash to a disco beat last month. Their COASTAL CABARET returns on Saturday, November 18th with hostess Miss Clara Voyance.
The poo:
COASTAL CABARET makes a triumphant return on Saturday, November 18th and you won't want to miss it! What better way to power up before seeing your un-chosen family than with a drag brunch? Seating and brunch will start at 12:30pm, so make sure you're on time because the real magic begins at 1pm. Our host, the amazing Miss Clara Voyance, will guide you through a spectacular show featuring the talents of Dizzyphoria, Killerbunnyfantasy, and Ryleeraw. DJ Baby will keep the music pumping until 3pm. Tickets: https://www.exploretock.com/coastal-kitchen-seattle/
I'm not seeing anything about age limits so it LOOKS like this could be a rare opportunity for the younger folks in your household to enjoy live drag but check with the venue first!
https://www.exploretock.com/coastal-kitchen-seattle/
(Visited 10 times, 1 visits today)