It's been a big year for Rainbow City Performing Arts, the non-profit arts group behind the Rainbow City Concert Band and Rainbow City Orchestra (and other music groups) who have been entertaining LGBTQ+ audiences for the last 25 years. Rainbow City has hired Damien Hall as its first full-time paid Executive Director and is establishing itself as a leading performing arts organization for the community.
The Rainbow City Performing Arts (RCPA) orchestrates a comprehensive strategy that harmonizes creativity, purpose, and growth. RCPA's recent Strategic Plan aims to reorganize leadership to provide more stability for all stakeholders, more support for members, and more equity for staff and volunteers. After twenty-five years as a volunteer-operated association, RCPA has a cause for celebration: hiring Damien Hall as RCPA's first Executive Director! As Riley McCormack, RCPA's interim President of the Board of Directors, said: "Damien has been a tremendous advocate and leader in making the governing structural changes needed to move RCPA toward the future." Now, with Damien in an equitably paid leadership role RCPA's Strategic Plan will flourish.
Ultimately, RCPA wants to become: "the most inclusive home for musicians to engage LGBTQIA+ communities and to have continual impact on musical and artistic diversity in Seattle."
They're kicking off their plan and their anniversary year with SPECTRUM OF COLOR, their November 17th concert at Taper Auditorium at Benaroya Hall featuring the Band and Orchestra performing major works like Gershwin's Rhapsody in Blue.
More info:
Join us for an evening of colors and sounds! The Rainbow City Concert Band and Orchestra present music inspired by the spectrum of colors that illuminate our daily lives. The evening includes a solo performance by pianist Abel Lifschutz in the seminal classic, Rhapsody in Blue by George Gershwin and a performance by flutist Dr. Sarah Bassingthwaighte in a movement of the flute concerto, Silver Lining by Frank Tichelli. Additionally, the concert includes a world premiere by composer Caleb Gomes, commissioned by Rainbow City Performing Arts, in celebration of 25 years of building community through music.

All are welcome to this exploration of diverse sounds and colors!
Tickets at various price points are available at: https://rainbowcity.org/events/spectrum-of-color/
Season Tickets for the entire Rainbow City season are also available and includes the following concerts:
Rainbow City Orchestra & Rainbow City Band
featuring soloists Abel Lifschutz, Piano & Sarah Bassingthwaighte, Flute
Friday, November 17, 2023 at 7:30pm
Taper Auditorium at Benaroya Hall
200 University St, Seattle, WA 98101
Rainbow City Orchestra & Rainbow City Band
featuring soloist Arnie Hernandez, Trumpet & STANCE (Seattle Trans and Non-Binary Choral Ensemble)
Friday, February 2, 2024 at 7:30pm
Taper Auditorium at Benaroya Hall
200 University St, Seattle, WA 98101
Rainbow City Orchestra & Rainbow City Band
featuring Zje Mongolian Music Ensemble and Tacoma Refugee Choir
Friday, April 12, 2024 at 7:30pm
Taper Auditorium at Benaroya Hall
200 University St, Seattle, WA 98101
GIFT OF MUSIC
Chamber Music Concert
Saturday, December 16, 2023 7:00pm
University Congregational UCC
4515 16th Ave NE, Seattle, WA 98105
SHOWERS AND FLOWERS
Chamber Music Concert
Saturday, May 18, 2023 at 7:00pm
University Congregational UCC
4515 16th Ave NE, Seattle, WA 98105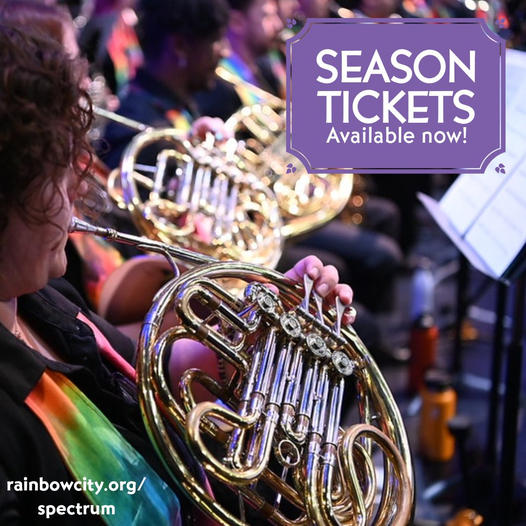 (Visited 43 times, 1 visits today)