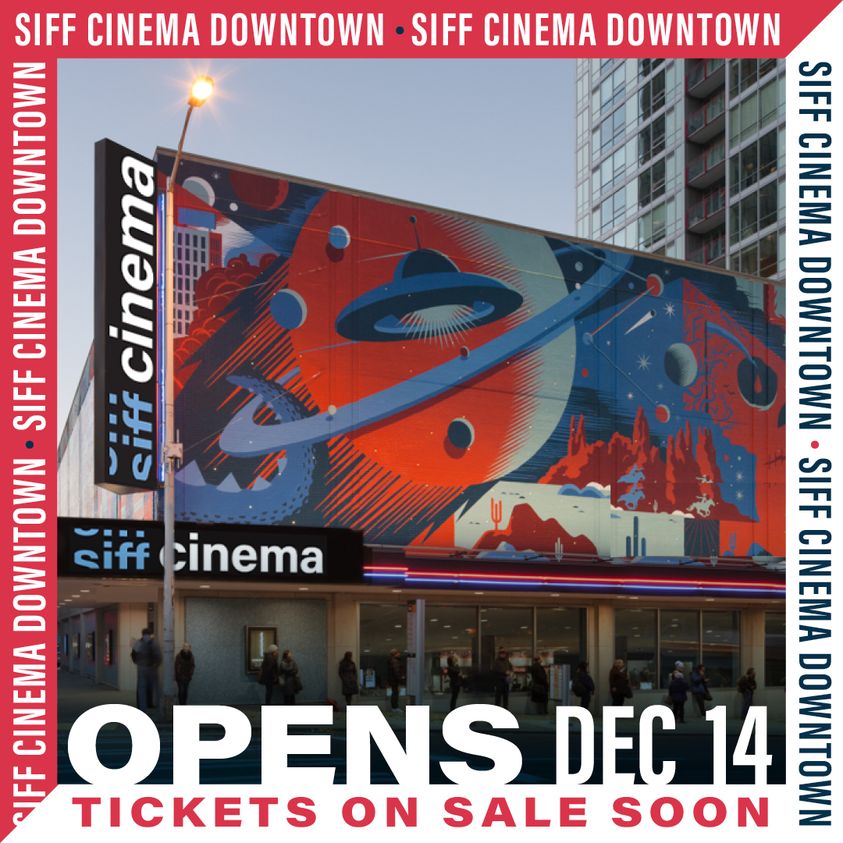 The Seattle International Film Festival made it official this week by announcing that their 4th venue will open to the public on December 14th. It's the highly anticipated return of the former Seattle Cinerama, 2100 4th Avenue in downtown Seattle which was acquired earlier this year after a deal was made with the Paul Allen Estate. The beloved venue had been closed for several years and there had been fears in Seattle's cinema community that the building could be in danger. SIFF's takeover will help keep the space an integral part of the film going experience for everyone in Seattle.
It will undergo a name change though…to the rather banal SIFF Cinema Downtown but SIFF was prohibited from using the "Cinerama" name as part of the deal.
More from the press release down below. Note the opening film will be the upcoming "Wonka" starring Timothée Chalamet portraying the much loved Willy Wonka character in a prequel to the original 1971 film that starred Gene Wilder.
SIFF announced November 1st that its fourth venue, SIFF Cinema Downtown (formerly the Seattle Cinerama Theater), will open to the public on December 14 of this year with Warner Bros.' Wonka. Tickets will be on sale soon.
SIFF Cinema Downtown will feature blockbuster studio films, specialty festivals and events, and first-run arthouse cinema, plus reserved seating selection with concessions including the venue's beloved chocolate popcorn and support from local Washington vendors including Rachel's Ginger Beer, Yonder Cider, Caffè Umbria, Alexandria Nicole Cellars, and a special SIFF 50th Anniversary brew from Black Raven Brewing Co.
SIFF's Executive Director Tom Mara announced the acquisition of the theater in May of 2023 at opening night of the 49th Annual Seattle International Film Festival, with thanks to the Paul Allen Estate. The venue first opened in 1963 to great fanfare but went into disrepair and by the late 1990s was in danger of being demolished when it was acquired and restored by investor and philanthropist Paul G. Allen. It is one of only two operating cinemas in the world with the capability of screening three-strip Cinerama films on its epic 97-foot curved screen consisting of 2,000 vertical strips The venue closed in 2020 and remained shuttered during the COVID-19 pandemic.
SIFF is Seattle's leading year-round film organization that brings the best in international and independent film to the area with the Seattle International Film Festival, SIFF Cinema, and SIFF Education. The Festival will be celebrating its 50th anniversary in 2024. SIFF has a long history of acquiring and operating historic Seattle theaters including the Uptown Theater, which they reopened in 2011 as SIFF Cinema Uptown, and the historic Egyptian Theater in Capitol Hill, which began operating in 2014 as SIFF Cinema Egyptian.
More information on the venue and SIFF can be found at siff.net. Updates on ticket on-sale dates coming soon.
---
About SIFF:
Beginning in 1976 with the annual Seattle International Film Festival, then expanding into year-round programming, SIFF is a 501c3 cultural arts organization whose mission is to create experiences that bring people together to discover extraordinary films from around the world. It is through the art of cinema that SIFF fosters a community that is more informed, aware and alive.
In its four theaters, SIFF offers year-round screenings, Film Talks and a series of spotlight festivals throughout the year. SIFF also serves the community through educational programs and SIFFsupports, a partnership program that hosts and provides technical support to a variety of special screenings and festivals.
For showtimes and event updates, visit siff.net.
(Visited 16 times, 1 visits today)