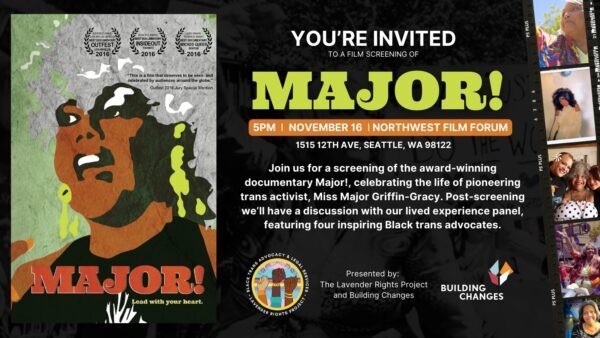 As part of Transgender Awareness Week, The Lavender Rights Project has teamed up with Building Changes for screening of a powerful documentary about a legendary queer civil rights leader. "Major!" is the 2015 film about Miss Major Griffin-Gracy, the Stonewall Rebellion veteran/Attica State Prison Riot survivor/former sex worker/transgender pioneer and activist who has been a fierce warrior in the fight for civil rights for 50 years with an emphasis on advocacy for trans women of color and survivors of police brutality and dangerous incarceration in male only prisons.
While this film has screened in Seattle previously at various film festivals, it's a good opportunity to continue discussions on Transgender rights with community members.
The screening and discussion will be held Thursday, November 16th at 5pm at Northwest Film Forum, 1515 12th Avenue on Capitol Hill. Get advanced tickets at: https://www.eventbrite.com/e/major-screening-and-community-conversation-tickets-736785895447
More info below:
Join Building Changes and The Lavender Rights Project for a screening of Major! followed by a discussion with our lived experience panel.

Join @lavenderrightsproject and our friends at Building Changes for an enlightening evening as we celebrate the indomitable spirit of Miss Major Griffin-Gracy, a pioneering trans activist, and her incredible journey of advocacy. We'll be screening Major!, a powerful documentary that sheds light on her remarkable life and tireless work for trans rights. Following the screening, don't miss our engaging lived experience panel, featuring four inspiring Black trans advocates deeply rooted in their communities.

It's a night of storytelling, empowerment, and connection that you won't want to miss. Together, let's celebrate resilience, advocacy, and the vibrant spirit of the trans community.

Food and drink will be provided.
The Lavender Rights Project and Building Changes present:
MAJOR! a film screening and conversation
November 16, 2023 at 5pm
Northwest Film Forum
Seattle, Washington
#LavenderRightsProject #major‼️ #missmajor #TransIsBeautiful
(Visited 11 times, 1 visits today)