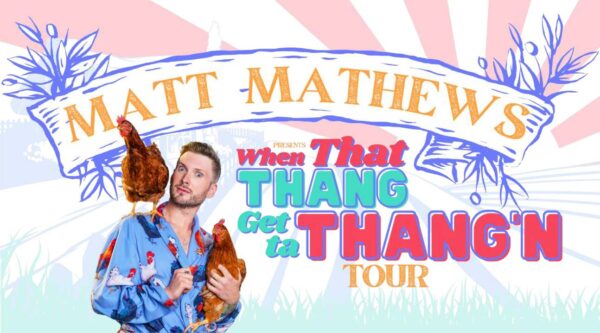 He's the hilarious relunctant gay farmer known for his videos featuring him doing farm chores with a crazy assortment of animals and pets including his favorite chicken, Fluffy (who has recently and sadly left this world for Chicken Heaven…) He's also a boudoir photographer, rodeo star, and an out gay man living in Alabama and he's become a BIG star on social media. He's MATT MATTHEWS and his debut national comedy tour has been selling out venues all over the country. He'll be making his Seattle area debut on April 13th at the Federal Way Performing Arts Center.
You can snag tickets at https://fwpaec.org/events/an-evening-with-matt-mathews/
You can check out Matt at https://www.instagram.com/matt_mathews/
More skinny:
TikTok Megastar Matt Mathews Makes His Stand-Up Comedy Debut with 'When That Thang Get Ta Thang'n' Tour
FOR MATURE AUDIENCES
Celebrated online for his relatability and situational humor, Mathews has amassed over 3 million followers on TikTok and over 1 million followers on Instagram. A key component to Mathews' internet fame is his ability to create consistently engaging content, such as his viral Instagram series Confessions with Matt, where he responds to messages from followers who reveal their deepest, darkest secrets – as well as his sidesplitting farm chores videos that show Mathews reluctantly performing daily tasks around his farm and playfully scorning his animals whenever they misbehave.

Mathews' live show is nothing short of a bonafide barn burner, guaranteed to provide bountiful belly laughs for all who attend. Throughout his routine, Mathews incorporates a swath of taboo topics and hysterical personal experiences, including his daily life living on a farm, growing up as a gay man in Alabama, his career as a renowned boudoir photographer, and strange sexual encounters.

His comedy show also features audience interaction via a segment called "Live Confessions," where audience members scan a QR code and anonymously submit their confessions, which he responds to impromptu on stage.
(Visited 15 times, 1 visits today)