March 8, 2023

•
by
Michael Strangeways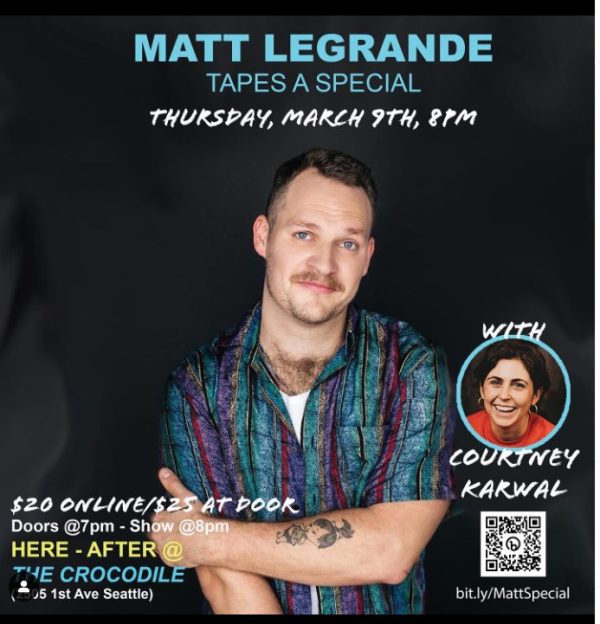 Adorable little comic fur monkey MATT LEGRANDE overcame an Evangelical Christian Missionary childhood spent in Indonesia in a part of that country ruled by Sharia law. As a horny closeted teenager, as he wrote in a piece for The Advocate several years ago, he felt like "my options were celibacy or death, and both felt lonely."
Matt has managed to avoid both those dreary options and he's now a successful comedian and he's bopping into Seattle on Thursday, March 9th to tape a comedy special at Here-After, the comedy venue at The Crocodile, 2505 1st Ave in Belltown. Tickets are still available at https://www.ticketweb.com/event/matt-legrande-courtney-karwal-here-after-tickets/12891275
Opening for Matt will be comedian/filmmaker Courtney Karwal.
Come support a deserving, hungry, young gay comedian!
(Visited 86 times, 1 visits today)
As the Editorial Director/Co-Owner, Michael Strangeways writes, edits and does about a million other jobs for Seattle Gay Scene, Puget Sound's most visited LGBTQ news, arts and entertainment website now celebrating its 14th year as a media outlet. A semi-proud Midwesterner by birth, he's lived in Seattle since 2000. He's also a film producer who would like you to check out the Jinkx Monsoon documentary, "Drag Becomes Him" now available on Amazon.com. In his spare time, he gets slightly obsessive about his love for old movies, challenging theater, "otters", vodka, chocolate, "I,Claudius", Lizzie Borden, real books made out of paper, disaster films, show tunes, Weimar era Germany, flea markets, pop surrealistic art, the sex lives of Hollywood actors both living and dead, kitties, chicken fried steak, haute couture and David Bowie. But, not necessarily in that order.
Related Posts
RuPaul's Drag Race winner Yvie Oddly's Strange Love tour makes
...