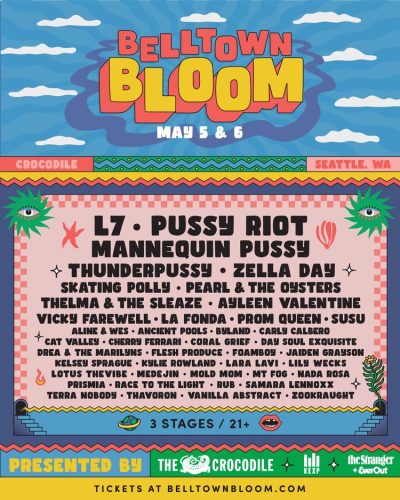 It's the Year of the Pussy at Belltown Bloom Music Festival at the Crocodile Complex on First Avenue this coming May 5th and 6th…the music festival is back for another year at the Croc's new home with a slew of stages and acts to choose from including lots and lots of acts that like having "Pussy" in their name….
The first billing headliner is L7 but joining them will be the internationally acclaimed Russian musical/activist group PVSSY RIOT (they're spelling it that way now apparently…or, at least on one press release I got. So confusing…) plus the group MANNEQUIN PUSSY and even local favorites, THUNDERPUSSY.
Sadly, the Pussycat Dolls don't seem to be a group anymore…
PVSSY RIOT/Pussy Riot is touring in support of their debut "mixtape" they released last year, MATRIARCHY NOW.
Some recent intel about the P. Riot:
Russian protest art collective Pussy Riot released their debut mixtape MATRIARCHY NOW on Neon Gold Records (MARINA, Charli XCX, Christine and the Queens etc.) featuring new single "PRINCESS CHARMING" with Salem Ilese. The release came just before the 10 year "anniversary" of their August 17, 2012 verdict of being convicted with hooliganism motivated by religious hatred, and spending 2 years in jail for protesting Putin.

The mixtape features collaborations with Tove Lo (who executive produced the project), Salem Ilese, Kito, Hudson Mohawke, Slayyyter, ILOVEMAKONNEN, Big Freedia, REI AMI, Phoebe Ryan and more. Last month, Pussy Riot announced the project with "PLASTIC" featuring ILOVEMAKONNEN alongside the official music video, directed by Haley Bowman HERE.

"PLASTIC" and the mixtape follows Pussy Riot's latest political action last June 9th, in which they hung a 45 foot MATRIARCHY NOW banner from the third floor of the Texas State Capitol to protest the national attack on reproductive rights. Plus Nadya Tolokonnikova has played an instrumental role in setting up LegalAbortion.ETH – the frictionless Web3 donation address that benefits seven organizations protecting reproductive rights.
You can snag tickets for Belltown Bloom at https://www.belltownbloom.com/
More of the line-up:
L7 – Pussy Riot – Mannequin Pussy – Zella Day – Thunderpussy – Skating Polly – Pearl & The Oyster – Thelma & The Sleaze – Vicky Farewell – Foamboy – La Fonda – Byland – Race to the Light – Kylie Rowland – Nada Rosa – Vanilla Abstract – Flesh Produce – Samara Lennoxx – Zookraught – Terra Nobody – Thavron – Mt Fog – Medejin – Coral Grief – Prismia – Rub – Day Soul Exquisite – Cherry Ferrari – Jaiden Grayson
(Visited 36 times, 1 visits today)