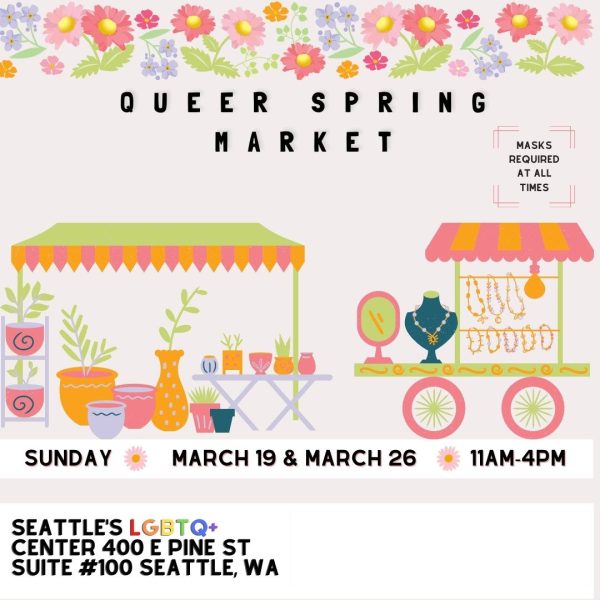 Seattle's LGBTQ+ Center, the former Gay City, is hosting a Queer Spring Market this Sunday, March 19th and next Sunday, March 26th from 11am to 4pm at their office at 400 E. Pine Street (corner of Pine & Bellevue) on Capitol Hill.
What you can expect:
At this market, there will be 20+ vendors over two Sundays (March 19th + 26th) selling everything from flan to leather goods to vintage clothing! There truly is something for everyone.

Need a gift for something coming up? Pick up some beautiful handmade presents from local BIPOC and LGBTQ+ vendors! Want to decorate your walls with new prints and art? Come browse through all the art!

The first 100 folks in can enjoy free food (all vegan, shout out to Chu Minh Tofu!!) Come by the Center and connect with our community this Sunday and next!

We will be featuring the following vendors at this market:
April Rubio: Apridot Studios
Noah Sanemitsu: Smell My Leather
James Prost: We Are Pansies
Nickole Villa: Queen Beryl's Crystals
Arielle: Medusa.Book.Binding
Daisy: Dulce Sol Pasteries
Kenzie: Eres Candela
Creature: King of Creatures
Madeline Johnson: In Your Era
Felix Tran: solfvelvetboy
Nani Bhat: Nanirimo
Gravity: How We Wade
Skylar Kaylen: The Curious Seedling
Krystal Jimenez-Marrero: Yo! It's Cake.
Tammy Hamamoto: Tammy Hamamoto Art
Juana Cervantes: Enchilositos Spicy Gummies
T: Art by Ziggy
safaa abdellatif: urba botanics
Jannae Alexander: 888
Candace: Jade Bunni
Yolanda "Jo" Cosme: Tienda Bandida
Nick/Nyx: Clowngendered
Nikayla Rice: Slow Loved Finds
Pamela Rojas Aguilar: El Copal
Kenita Gaines: EarthShine Apothecary

We'll also have community partner tables at the event, including King County Metro!
(Visited 116 times, 1 visits today)