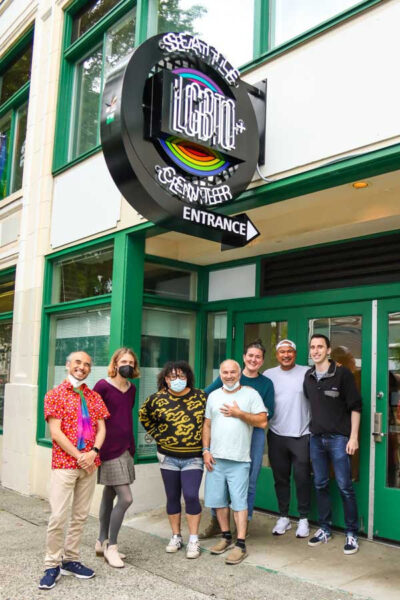 The branding is still a bit of a muddle but the fine folks at the new Seattle LGBTQ+ Center aka "Gay City" (400 E Pine St #100 Seattle, WA 98122) are open and ready for business. The non-profit is transitioning from its longtime former name of "Gay City" to a new name to be more inclusive for all members of the community as it moves from its former home on Pike Street, to its new home at the corner of Pine Street and Bellevue, a move of only about 3 blocks.
This past week, the new Center was thrilled to have its new signage installed (minus the Gay City name) and they're open and ready for people to use their services which include its Wellness Center with HIV/STI testing and other services, its community library space, arts programming and its Queer Youth programs.
The Center is currently actively working on fundraising to create a youth drop-in center, a vital community resource for the under 21 crowd who can't socialize in traditional queer spaces like bars and night clubs.
Go here to give to this project and find out more about their plans: https://www.gaycity.org/pride/
You can also check out the Center and talk to folks from the Center at all these fine events happening this week including an Open House:
Upcoming Events:
Regular hours for the LGBTQ+ Center:
Building Hours
Tuesday – 1:00 p.m. to 7:00 p.m.
Wednesday – Friday – 11:00 a.m. to 7:00 p.m.
Saturday – 10:00 a.m. to 5:00 p.m.
Resource Center Hours
Monday – Friday 2:00 p.m. to 5:00 p.m.
and, contact numbers including numers for Resource Line and 24-hour Crisis Line:
Phone
206-860-6969
Resource Helpline
206-323-LGBT
24-Hour Crisis Line
866-427-4747
Email
(Visited 12 times, 1 visits today)