Seattle Pride's "Pride Speaks" series of community conversations about topics and issues of importance to the LGBTQ+ community returns on Monday August 22nd with a panel focusing on Queer Students and their experiences in the Kindergarten through 12th Grade Education System. Specifically, this month's discussion will center on ways to help create safe and supportive environments for LGBTQ+ students.
The info:
Seattle Pride's® Seattle Out & Proud Foundation will bring Pride Speaks: Supporting K-12 Queer Youth to the Unexpected Productions Market Theater from 7-8:30 p.m. on Monday, August 22nd. The discussion will focus on the current landscape queer youth are facing in the educational system – and the world.

This Pride Speaks event is moderated by Lisa Love, health and education manager at Seattle Public Schools. Love will guide panelists and the audience through an in-depth conversation informed by her 30 years of experience in education to shed light on the day-to-day life that many LGTBQIA+ students face. The panel discussion will center around how to create environments where LGBTQIA+ students feel safe and supported.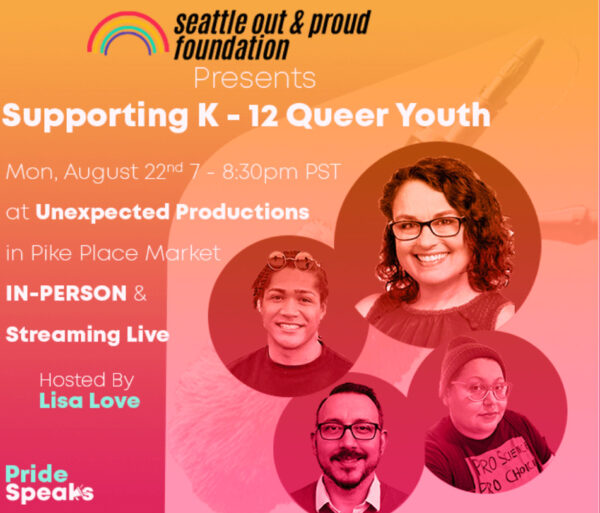 Pride Speaks: Supporting K-12 Queer Youth panelists include:
Daynon Jackson, Youth Advocacy Program Coordinator at Gay City. Jackson has used their experience in QTBIPOC mentorship and leadership development to produce systematic change using youth empowerment and joy as radical resistance.
El Sánchez, Fundraising Manager at Pizza Klatch. Sánchez has been a featured performer and speaker at queer comedy shows, Pride events and focus panels and discussions throughout the country. They use both their lived experience and background in LGBTQIA+ community to benefit queer and trans youth.
Joe Bento, Co-Chair at GLSEN. Beyond his time as a teacher, union member, and community volunteer, Bento has been involved in training specifically for the creation of safe spaces for LGBTQIA+ students and educators.
GLSEN reports that while each unique subset within the LGBTQIA+ community has different experiences, 86 percent of LGBTQIA+ students were harassed or assaulted at school, 84 percent of trans students felt unsafe at school because of their gender, and two in five LGBTQIA+ students of color experience both anti-LGBTQ and racist harassment at school. These experiences lead to more missed school, lower GPAs, and lower self-esteem.

Pride Speaks is a series of quarterly community conversations with expert panelists and speakers on a wide variety of topics of interest to the LGBTQIA+ community. The event is free but advance registration is required. Pride Speaks will also be live streamed on the Seattle Pride YouTube page for those who can't make it in person.
About Seattle Pride
Seattle Pride is the 501(c)(4) not-for-profit organization which produces the Seattle Pride Parade, Seattle Pride in the Park and other pride-related events and promotions, as well as provides grants and sponsorship support to community-based LGBTQIA+ serving organizations statewide, and year-round advocacy in support of diversity, inclusivity, and equal human rights for all.
About Seattle Out & Proud Foundation
Seattle Pride's Seattle Out & Proud Foundation is a 501(c)(3) non-profit foundation which exists to educate the public about the LGBTQIA+ community and the rights of its members; to eliminate discrimination against; and to further the civil rights of members of the LGBTQIA+ community by promoting the arts and supporting leadership development.
To learn more about Seattle Pride and Pride-related events, grants and advocacy, visit www.SeattlePride.org; subscribe to our e-newsletters and advocacy alerts; and follow us on Facebook, Instagram, TikTok, and LinkedIn @SeattlePride, and on Pinterest and Twitter @OurSeattlePride.
(Visited 14 times, 1 visits today)